Tarpaulins / Banner
Better print online!
Tarpaulins and Banner at the best price
Tarpaulins or banners are perfect advertising media for outdoor advertising on barriers or construction sites. They are also suitable for advertising at large outdoor events or trade fairs. The advantage consists in the simple handling and the at the same time large effect.
At print24.com you can have tarpaulins printed with airy mesh fabric, robust PVC tarpaulin or blockout-tarp. All materials are B1-certified and therefore meet all fire protection requirements. Print orders for banners or tarpaulins are possible from just one piece. For larger advertising campaigns we can also print up to 100 tarpaulins and banners per order.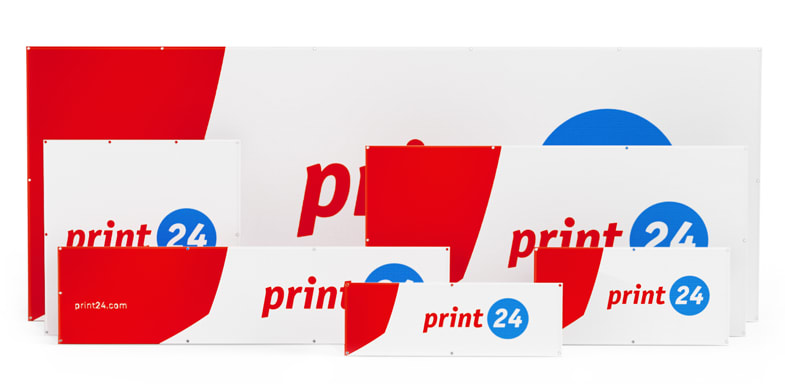 Use up to 30 square meters of advertising space: our tarpaulin formats
Tarpaulins and banners can be printed in up to 16 different sizes with a side length of up to 10 m. If you want to attach advertising to barriers, the format of 730 x 2,150 mm is ideal, for construction hoarding fences we recommend tarpaulins in 1,730 x 3,400 mm. If you want to advertise on a large area of scaffolding, you should opt for tarpaulins in 2,000 x 2,050 mm.
Mesh banners or PVC tarpaulins allow small surfaces of 500 x 1,000 mm or more. But you can also equip large wall surfaces in city centres or warehouses with large-format advertising material in up to 3,000 x 8,000 or 3,000 x 10,000 mm. Large glass fronts can be covered with double-sided printed blockout banner for promotional purposes.
Robust material - suitable for the intended use
Our banners are made of high-quality, 300 gsm mesh fabric. It is particularly lightweight and breathable, but also tear-resistant vinyl fabric. The weatherproof material is UV-stable and therefore ideally suited for outdoor advertising.
Due to its low weight, even large banners with up to 30 m² are easy to handle. For fence advertising or advertising on barriers we recommend PVC tarpaulin with a thickness of 500 gsm. The vinyl material is very robust, weatherproof, scratch-resistant and tensile. With the 800 gsm blockout tarpaulin, you not only use construction fences or scaffolding perfectly as an advertising space, but also benefit from unrestricted privacy.
A black barrier layer is inserted between the polyester fabric coated on both sides with PVC. It also allows you to print on both sides of the blockout banner without the print "showing through".
All our tarpaulins and banners meet the fire safety requirements of class B1.
For printing on mesh, we recommend larger motifs without too much detail. This is because these banners are printed "floating", so that the printing inks can warp minimally. Very exact printing results can be achieved with PVC tarpaulins. There, the print is attracted by vacuum, which prevents "sagging".
After printing, your tarpaulins are cut to size. On request, we can insert a 6 or 10 cm wide hemstitch at the bottom and top or right and left. For example, you can push the tarpaulins and banners onto a tube of scaffolding or a barrier grid. Alternatively, you can opt for edge reinforcement with eyelets in the corners or all around. This allows you to adapt your tarpaulins perfectly to the desired fastening system.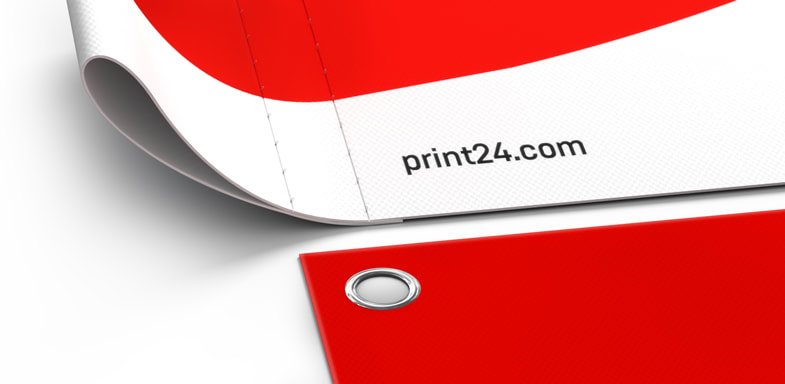 Modern printing process for optimal image representation
For tarpaulin or banner printing, we use the CMYK four-colour process. It offers you the greatest possible flexibility in the choice of motif. Please note, however, that very detailed graphics are less accurate on mesh due to the material. In this case PVC tarpaulin is better suited.
When using large-format tarpaulins, also remember to ensure that the resolution of photos or other graphics is sufficiently high so the print does not become "pixelated" later on.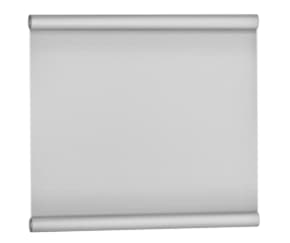 Cut, 6 cm hemstitching top and bottom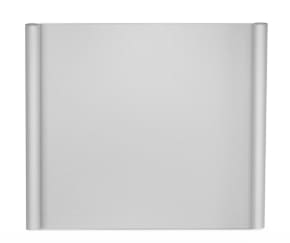 Cut, 6 cm hemstitching left and right
Cut, 10 cm hemstitching top and bottom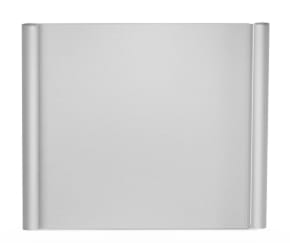 Cut, 10 cm hemstitching left and right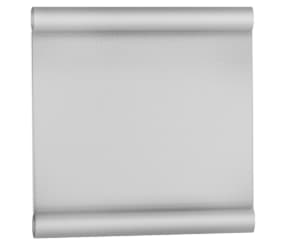 Cut, 14 cm hemstitching top and bottom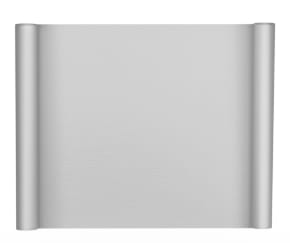 Cut, 14 cm hemstitching left and right
Cut, reinforced edge, 12 mm eyelets in the corners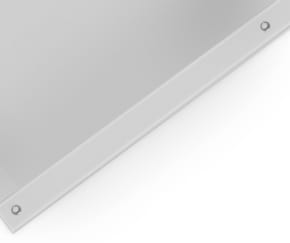 Cut, reinforced edge, 12 mm eyelets every 50 cm all around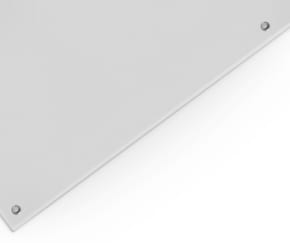 Cut, 12 mm eyelets every 50 cm all around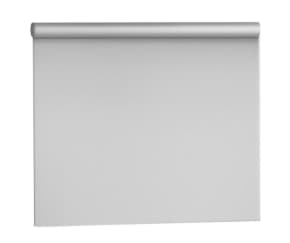 Cut, 6 cm hemstitching top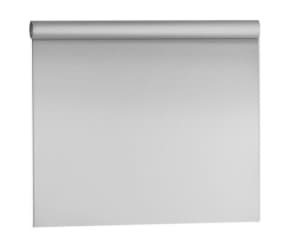 Cut, 10 cm hemstitching top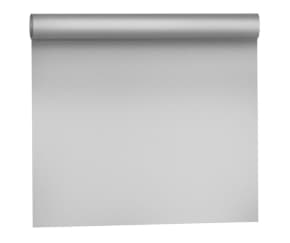 Cut, 14 cm hemstitching top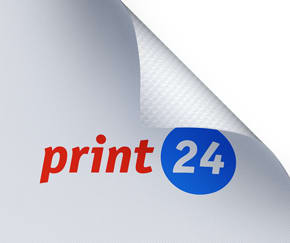 This material has proven itself many times in practice and is particularly strong with a density of 500 gsm. The advertising space is not only weatherproof, but also tensile, tear and scratch resistant, so it is optimal for construction site use.
Calculation example
Tarpaulins/banners made of PVC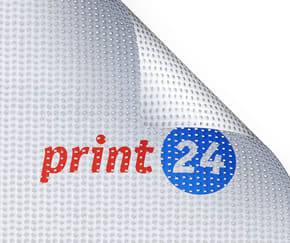 If you choose the 300 gsm mesh fabric, your tarpaulins will be lighter and more "delicate". Nevertheless, you do not have to forego stability and resistance. Due to the very small holes in the fabric, these products generate a lower wind load. Mesh tarpaulins are therefore particularly recommended for very large outdoor advertising tarpaulins.
Calculation example
Tarpaulins/banners made of Mesh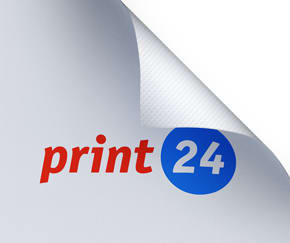 With a density of 800 gsm, blockout materials are extremely robust. At the same time, these tarpaulins offer the advantage that both the front and the back can be used for printing, because a black barrier layer is inserted between two PVC layers, making the material opaque and lightproof. At the same time, the fabric is UV-stable and does not become brittle in strong sunlight.
Calculation example
Tarpaulins/banners made of Blockout
Do you still need fixing accessories for your tarpaulins?
On request, you can also order the right mounting accessories for your banner. If you have a tarpaulin or banner printed with hemstitch, you will receive the suitable mounting solution here.
For tarpaulins with eyelets we can supply practical cable ties or, if required, eyelets as well as clamping eyelets with fastening loops or only fastening loops. Simply select the desired option in the configurator.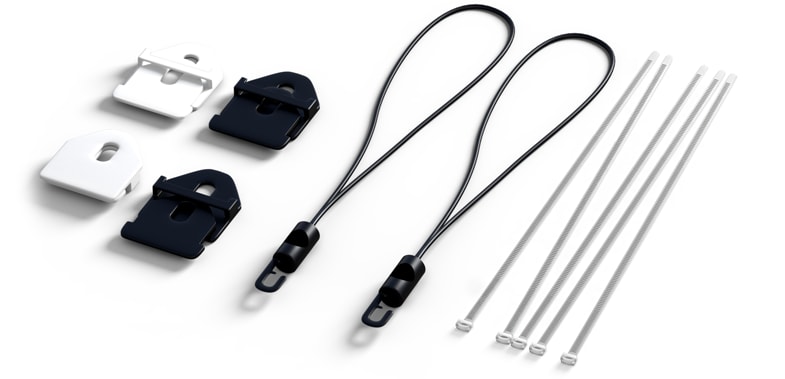 FAQ for the product tarpaulin/banner
Which material is air-permeable and wind resistant for tarpaulins and banners?
For this purpose mesh fabric is especially suitable. Mesh is a light, tear-resistant, air-permeable vinyl fabric which is also weatherproof, UV-stable and B1-certified.
Which tarpaulin is suitable as a scaffold banner?
That depends on the scaffolding used. In general, a hem with a width of 6 cm is sufficient for smaller scaffolds. For larger scaffolds, a hem width of 10 cm is recommended.
When should I choose a PVC tarpaulin and when should I use a mesh tarpaulin?
Both materials are ideally suited for outdoor use. A PVC tarpaulin is more stable compared to mesh, but also heavier. The mesh tarpaulin is recommended for use on scaffolds or construction site hoardings that are particularly exposed to high winds due to its air permeability.
How can I secure the tarpaulins?
This depends on the selected processing. Our tarpaulins/banners are cut to the desired size and can be ordered with eyelets, optionally with reinforced edges or with a 6 cm hemstitch (top/bottom or left/right). Tarpaulins with eyelets can be fixed with cable ties or tension loops. Tarpaulins with a hemstitch are either fastened directly to the scaffold pole. If only the edge of the banner has been reinforced, clamping eyes are used for fastening. These can be clamped variably to the tarpaulins and then fastened to the railing, for example, using tension loops, which are also available as accessories.
What is the difference between PVC tarpaulin and blockout tarpaulin?
In contrast to the PVC tarpaulin, block-out is stronger and has a black barrier layer between both sides of the tarpaulin, which enables 2-sided printing.
What is the safety range for the eyelets?
The manufacturer recommends a safety distance of at least 5 cm from the edge of the tarps.
How can the tarpaulins be cleaned?
You can wash dirty tarpaulins with a water hose or wipe with a damp cloth. For difficult dirt, the manufacturer recommends using a mild detergent that does not attack the colours.
Is mesh fabric machine washable?
Mesh fabric should not be washed in a washing machine. Like the other tarpaulins, mesh should either be washed with water or cleaned with a damp cloth. A mild detergent can also be used for tough dirt.
How should tarpaulins be stored?
Tarpaulins should always be stored rolled. If tarpaulins are folded, unattractive cracks appear which are difficult to stretch. Furthermore, the colour often becomes brittle in such places.
What material are the eyelets on the tarpaulins made of?
The tarpaulins are provided with plastic eyelets.