Beachflags
Better print online!
Print Beachflags for an affordable price
We print beach flags for your promotions, sports and outdoor events. These modern advertising media emit a completely natural lightness and can be installed in a few simple steps. At print24.com, we create beach flags for you in three common variations as Drop, Wing or Pole in a total of twelve different sizes. Depending on the product selection, the standard flags offer an area of ​​610 x 1,550 mm to a huge 741 x 5,026 mm, leaving plenty of room for your advertising messages, motifs, or slogans. As a small special, you will also find small mini-beach flags, which are perfect for trade fairs or restaurants.
On request, you can order your wind flags completely ready with high-quality fibreglass fastening system. So you can equip your promotion stand or your outdoor advertising space with your beach flags immediately after delivery. With us you benefit not only from an excellent print result, but also from durable material as well as from a very simple handling. We can print up to 50 beach flags per order and more on request!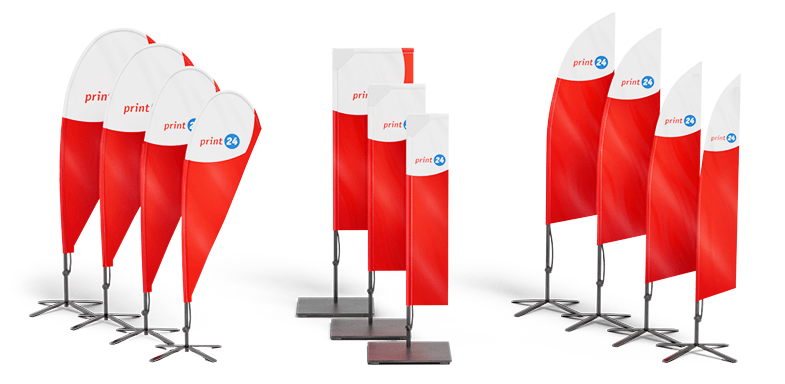 Design beach flags in different formats
We produce your beach flags in the three common formats: Drop, Pole and Wing. Drop flags have a teardrop shape that tapers downwards. The pole format is rectangular. The beach flag is attached to the poles with the long side. With the Wing-Form you can have the highest beachflags available. The raised wing has a maximum height of over five meters.
A nice-to-have for trade fairs, events, or the gastronomy are the mini beach flags in drop form. They have a format of 210 x 380 mm and can be used as a table stand.
Pole flags are printable in three sizes.
You can order drop beach flags in five different sizes, from 610 x 1,550 up to 1,182 x 4,167 mm.
A nice-to-have for trade fairs, events, or the gastronomy are the mini beach flags in drop form. They have a format of 210 x 380 mm and can be used as a table stand.
Pole flags are printable in three sizes. The short side always measures 761 mm. In height, you can choose between 1,821, 2,649 or a stately 4,019 mm.
Perfect for beach banners are beach flags in wing-shape. With four sizes in 433 x 1953, 573 x 2547, 739 x 3661 and 741 x 5026 mm, you can tailor the size of the advertising material perfectly to your needs.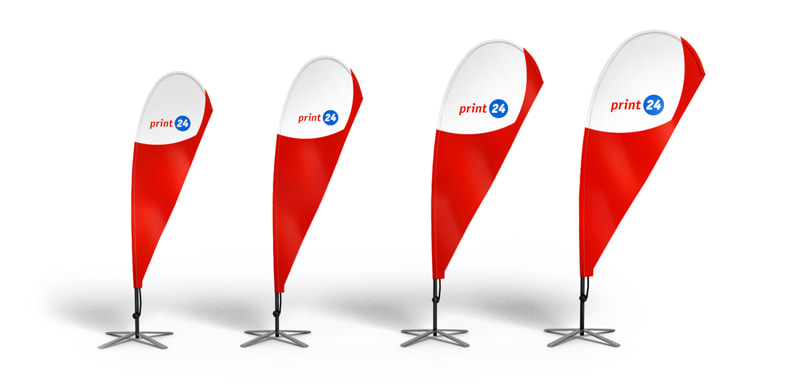 The upside-down drop shape gives the flag a wider top side, which makes the information placed there look even better. On request, the Drop Flag can also be printed in mini format to use as a trendy table display in restaurants or bars.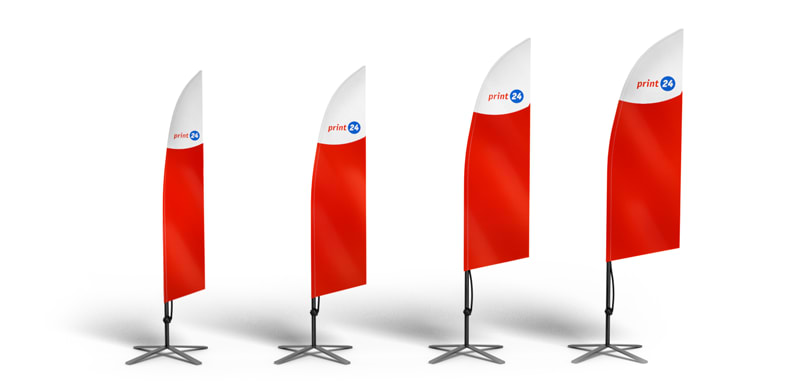 The Wing Flag is the largest flag we can print for you and on which your advertising slogans or motifs will look perfect. Especially at large events, the imposing wing shape stands out.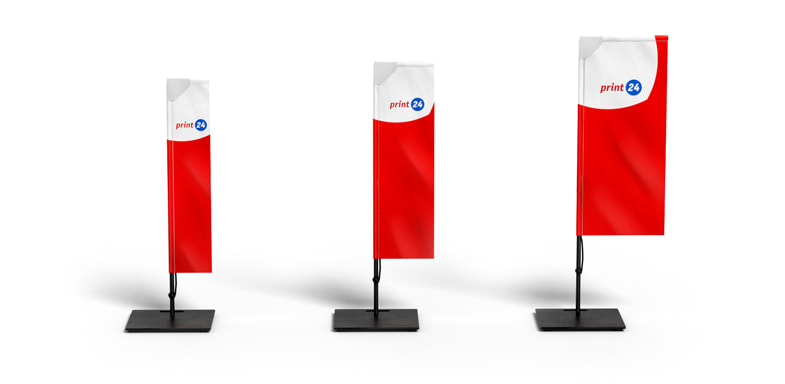 The Pole Flag is a straight version of our flags that does not have any curves and therefore offers a lot of space for your motifs. The Pole Flag is available in 3 different sizes.
High quality materials with the beach flags
We print your motifs, slogans or information on high-quality, 110 gsm strong bunting. The weather-resistant polyester is very robust and offers a long service life. Thus, you can use your beach flags even over a longer period without any problems. All beach flags have a hemstitch, which we print on the edge.
An exception are the mini-beach flags, whose hemstitch remains black. Incidentally, the bunting used by us has the B1 fire protection certification. Thus, your flags meet the requirements that they can be used at public events or in publicly accessible interiors!
Matching accessories for beach flags
If you wish, you can order the appropriate fastening system for your beach flags. You can choose between a system with a base plate or a system with a base cross. Both systems consist of a highly flexible and robust fibreglass rod. With the tension fastening your beachflag is then clamped in a few simple steps.
The ground cross is slightly lighter at 2.7 kg, but measures 85.5 x 66.5 x 21 cm when unfolded. The base plate measures 40 x 40 cm and weighs 10 kg. A transport bag is included in the scope of delivery for easy transport. From a height of four meters you get a water bag for your beach flags with bottom plate, which can be filled with 12 litres of water to increase the stability of the construction. Have you already had beach flags printed and still need a fastening system? Then you can also order this one by one without a print order.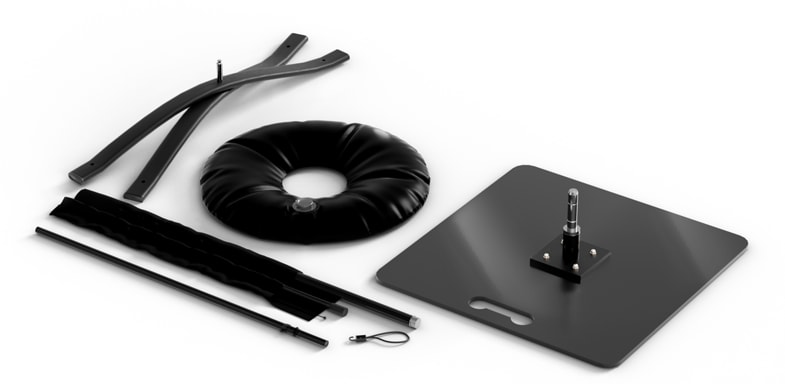 Modern printing processes and quality colours
For printing, we rely on the proven CMYK four-colour process. This allows you to draw on the entire colour spectrum and also print photos or graphics on your beach flags. The printing is one-sided. The entire surface, including the hem, is printed on the edge - with the Beachflag mini, the hemstitch is black. When choosing your subjects, keep in mind that the resolution is high enough. Especially with the large-format beach flags, the overall picture can otherwise seem very pixelated. The minimum resolution your pictures should have is described in the fact sheet.
How is the processing done?
If you already have a mounting system available, you can order only the printed beach flags from flag cloth with us. The flags are standard equipped with a sewn-in hemstitch. So they can be attached to the designated holder. In this way, the flags remain stable even in windy weather.
FAQ to the product beach flags
How heavy are the bottom plate and bottom cross of the beach flags?
The floor cross weighs 2.7 kg and the floor plate, particularly suitable for outdoor use, weighs 10 kg.
Can both sides of the beach flag be printed?
No, but since bunting is used, this won't be necessary since the print "shines through".
What is the purpose of the water bag that can be ordered additionally with the beach flags?
The water bag can also be attached to the base cross and base plate to weigh them down. With a capacity of 12 litres, this helps to weigh down the bottom cross and bottom plate accordingly. A water bag will be included for beach flags that are 4 m and higher.
Up to what wind strength can the beach flags be used?
No precise statement can be made about this. In principle, it is recommended to choose a base plate as the fastening system for outdoor use, as this is heavier and thus offers better support than the base cross. In addition, the base plate can be weighted down by a water bag that can hold 12 litres of water and is included with beach flags that 4 metres or higher.
Can the hem be printed with the beach flag?
Yes, in the case of beach flags the entire surface, including the hem, can be printed. An exception are the mini beach flags, where the hem stays black!
How long does the print on the beach flags last?
The durability of the print is strongly influenced by factors such as storage and frequency of use. When printing our beach flags, we use a special UV ink that is particularly suitable for outdoor use.
Can the beach flags be exchanged without having to change the fastening system?
The beachflags are compatible with the offered mounting systems. However, there is no guarantee that beach flags printed at print24 will fit on other systems, as the sizes vary greatly between suppliers.
How high are the beach flags when the floor cross or floor plate is attached?
Drop
XS 1810 mm
S 2310 mm
M 3340 mm
L 4450 mm
Wing
XS 2210 mm
S 2810 mm
M 3940 mm
L 5310 mm
Pole
S 2080 mm
M 2930 mm
L 4300 mm
What should be considered when cleaning and storing beach flags?
Beachflags can be cleaned at 40° C. It is important that the washing powder is mixed with lukewarm water in a container and only then added to the washing drum. The washing agent must immediately come into contact with the printing ink, otherwise the sublimation dye will dye into the polyester.
Drum drying is possible at low temperature (gentle).
Storage widths are approx. 160 cm, 183 cm, 253 cm and 320 cm.
Is the flag fabric used for the beach flags anti-static and dirt-repellent?
No, the fabric is neither anti-static nor dirt-repellent.