Roller banner
Better print online!
Print and create roller banner
Roller banner in excellent quality in seven high-quality versions, from mini roller banner table stands to professional roller banners in XXL format. The practical presentation systems are not only in demand for trade fair appearances, but can also be used as information boards in public authorities and companies or as roll displays in shops.
You can tailor your selection perfectly to your needs and, for example, order change displays in the deluxe version that can be used with different motifs. We print your roller banner from a single piece, but can also print up to 50 copies at a time for promotions or trade fair stands.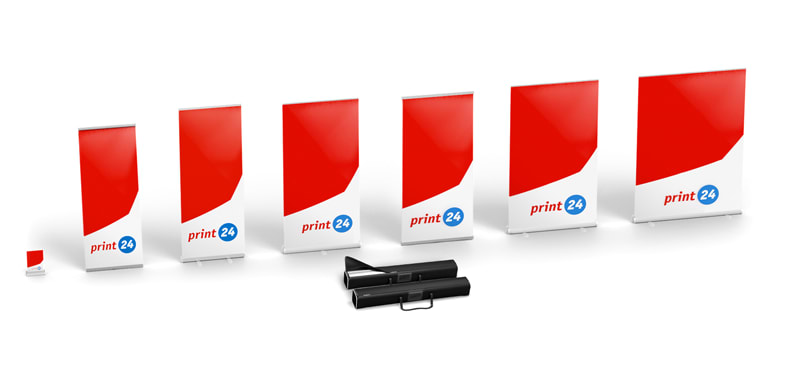 Depending on the purpose adjust the format of your roller banner
At print24.com you can choose between seven different roller banner variants. As the name suggests, the Roller banner Classic is our "classic" and is ordered by many customers. With its dimensions of 800 x 2,000 mm it offers a very good price-performance ratio and is perfect for beginners. The high-quality silver-coloured aluminium cassette has two swivelling and robust feet and a bar holder.
Depending on your needs, you can have PVC tarpaulin banners or 200 μ Banner lite printed.
Our premium Roller banner displays are of even higher quality. Thanks to the Easy Clip system, they are very easy to handle and thus fulfil all the requirements of a professional presentation system. We produce these displays in four sizes from 850 x 2,000 up to 1,500 x 2,000 mm.
Our top model is the Roller banner-Exclusive. Thanks to its telescopic bar, it impresses with its comfortable handling and very high-quality look. You can order this model in three formats from 850 x 2,000 to 1,200 x 2,000 mm as well as in the Exclusive Duo version. For Exclusive Duo roller banners, we can print the same motif on the front and back of the banner.
If it is important to you to change the motifs of the roller banner display, we recommend the Deluxe version. These roller banners have the same features as the Exclusive Displays, but can be equipped with different banners. It is important that you always have banners printed in the appropriate size for this system. Here at print24.com you can have these roller banners displays printed in eight different formats from 850 x 1,600 to 1,000 x 2,200 mm.
If you require particularly large roller banner displays, our XXL variants are recommended. Here formats of up to 2,000 x 3,000 mm are possible.
A very attractive roller banner variant are our "Minis". They can be used perfectly as attractive table displays for congresses, events or restaurants. They can be produced in a handy DIN A4 size.
All roller banners from print24.com come with a practical carrying bag and matching system. So you can use your displays immediately after delivery!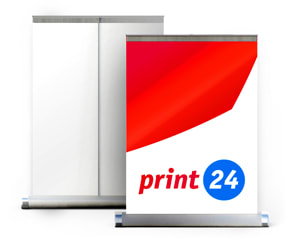 This mini format is the smallest roll-up available here. It is supplied in a silver cassette into which a chrome-plated steel rod is inserted for rolling up.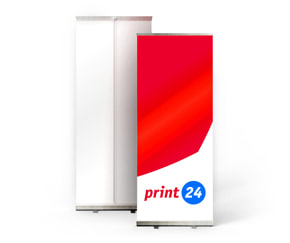 This standard banner measures 800 x 2,000 millimetres and is stored in a lightweight aluminium cassette. Two rotating feet and an optimised pole holder ensure that these banners are securely set up. The case is padded and has a long zip fastener for better handling when removing the Rollup Classic banner.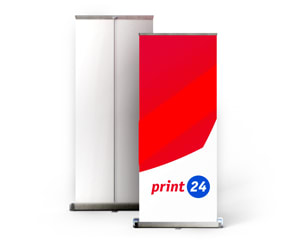 These displays are supplied with an aluminium case reinforced at the side caps. The powder-coated steel feet provide even better stability with special anti-slip pads. The simple clip system makes it quick and easy to stretch the tarpaulin on the Premium Rollup.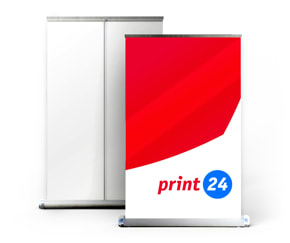 This version is similar to the Premium Rollup but offers the additional option of exchanging motifs.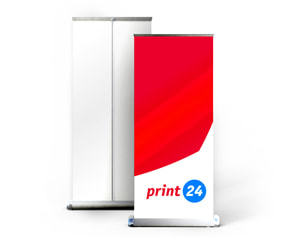 In this version, you receive a high-quality aluminium cassette with practical adjustable feet on the underside. The top profile is equipped with an easy-to-install telescopic pole with clip system.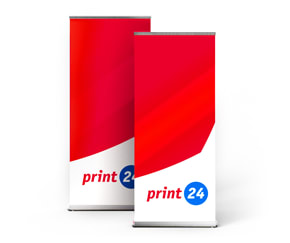 The equipment corresponds to the Exclusive model. In addition, a double-sided roll-up banner can be used.
This mounting system is designed for our large roll-ups. It includes two telescopic poles with height indicator.
Systems and printing processes for your roller banners
Every roller banner display at print24.com comes with the appropriate system as standard. This consists of a metal case as well as practical feet and a bar holder. So you can use your Roller banner immediately after the delivery and set up on your exhibition booth or at the POS.
The Deluxe models are an exception. You can order these roller banners either with or without a system. While with all other available systems the banner is firmly attached to the case, here the motifs can be changed. If you already have a Deluxe system, you can only order the print.
When printing your roller banners, we rely on the proven CMYK four-colour process in all versions, i.e. mesh banners as well as PVC tarpaulins. This gives you great flexibility in your choice of motif. Photos, illustrations or texts can be displayed both with 200 μ Banner lite and with PVC banners.
Regardless of the chosen material, you should ensure that your print graphics have a sufficient resolution to avoid "pixelation" of the image.
High quality display material for a long service life
As standard for our roller banner displays we offer you high quality 200 μ Banner lite. The material has proven itself for roller banners. It is tear-proof and dimensionally stable. In addition, the polypropylene used is opaque.
This allows you to see all motifs printed on the Roller banner even if there is a light source behind the display. Roller banners with 200 μ Banner lite are therefore the first choice for exhibition stands or sales stands that are brightly lit.
A more robust variant is offered by the 510 gsm thick PVC tarpaulin. It is also used practically as a roller banner. In contrast to 200 μ Banner lite, the PVC tarpaulin used is scratch-resistant and UV-stable. Roller banners made of this material are therefore even more durable. Please note that we only offer this option for our Classic Roller banner Displays.
Regardless of the product selection, all roller banners offered here meet the criteria of fire protection class B1. You can therefore use your roller banners at public events without any problems and comply with the fire protection regulations.
FAQ to the product Roller banners
Can I change the motifs with my roller banner?
Not on all models support a change of motifs, as the roll is firmly attached to the cassette. It is possible with the Roller banner Deluxe model. You also have the possibility to order only the print (without system).
How are the roller banners transported?
The roller banners are transported in a carrier bag, which is already included in the scope of delivery.
When ordering a roller banner i am ordering "Print + System". What exactly does this include?
The complete package is delivered here. It contains the printed roller banner, the cassette enclosing the roller banner and a carrier bag. You also have the possibility to order just the print with the Deluxe model.
How accurately is the security area defined in the data sheet for roller banners, especially at the bottom?
Do not print in the lower red hatched area, where the roller banner is glued into the cassette. At least no lettering should be printed in the area between the red line and the red hatched area. It's hard to say how much of it can be seen, so it's best to just have colour printed in this area.
Which material do i choose for the use of the roller banner at trade fairs?
Depending on the technical guideline, it is necessary to use advertising technology with B1 certification. Therefore the PVC tarpaulin with certification DIN 4102-1 in construction material category B1, flame retardant, is recommended.
Banner lite or PVC tarpaulin, which material should I choose if the roller banner is to be used outdoors?
The use of a PVC tarpaulin is recommended for outdoor use as it consists of tear-, tensile- and scratch-resistant vinyl fabric. The PVC tarpaulin is also weatherproof, UV-stable and B1-certified (DIN 4102-1).
Is it only possible to order the roller banner system without printing?
No, that is not possible.