Postcards
Better print online!
Print postcards at the best price
We print postcards for you in many different designs and formats, on high-quality paper and in standard and special colours. On request, we can also add exclusive refinements. In this way, you have the opportunity to customise your postcards perfectly and adapt them to their respective purpose. The design and configuration of postcards turn them into beautiful occasion cards for Christmas, birthdays or Easter, as well as loyalty cards, invitation cards or practical participation cards.
Whether for private, business or advertising purposes, with print24.com you get the most out of it, if you want to print individual postcards. The print is possible from a single piece. Of course, our print shop is also designed for large orders with up to half a million postcards!
Different formats for your postcards
We can print both the front and the back of your postcards. You can choose between seven standard formats from DIN A7 (74 x 105 mm) for small gift cards to large cards in A3 (297 x 420 mm), which are suitable, for example, for the presentation of symbolic checks. Of course you can also order postcards in special formats. You can print in portrait or landscape format - except for square postcards.
Typical formats are DL (105 x 210 mm) or DIN A6 (105 x 148 mm). While DL postcards are particularly suitable for direct mail and advertising, DIN A6 postcards are perfect for Christmas post or birthday greetings.
High quality papers for postcard printing
There are many different paper variants available for printing on your postcards at print24.com! A very good price performance ratio is offered by our glossy or matt premium coated art papers, which you can select in thicknesses of 170, 250 and 350 gsm. They offer a brilliant colour representation and depth especially with printed photos.
If you want to create something more durable, but still inexpensive, Chromo board or coated board premium in grammages of 300 or 400 gsm are the best option. The chromo board is the classic postcard, because the uncoated back allows the card to be written on with a conventional pen.
If you would like to have exclusive invitation cards or greetings cards printed, we recommend our premium paper. In the versions Chamois or Bright white you achieve a unique look, while the variants Linen and Ribbed provide a pleasant feel.
If you want very exclusive postcards, for example for wedding invitations, it is best to take our Luxecore paper. With a thickness of 750 gsm, it is very stable and at the same time in ribbed, linen, bright white or chamois an exceptional and exclusive paper version.
If you are looking for cheap paper for mailings or participation cards, you can use offset or recycled paper. These papers also have the advantage that you can process the cards with a standard printer or copier.
With its slightly structured surface, the Groundwood pulp board is particularly suitable for printing. The unusual material has a thickness of 1.4 mm with a grammage of 575 gsm. This cardboard is made of shredded wood with a slightly yellowish colour, which is caused by the amount of lignin in the cardboard. This makes your postcards particularly stable.
Refine postcards after printing - options with print24
If you are a reseller and want to create high-quality cards for your customers or have classy postcards printed for events such as weddings and anniversaries, you should refine the surface.
The blind embossing is very elegant and unobtrusive. We can use it, for example, to print year numbers or initials as deep or high embossing.
To make the surface of the postcard more robust and stable, a cellophane coating is ideal. The foil laminated onto the card is available in matt, gloss, linen texture or soft touch.
In the truest sense of the word, a highlight of your postcards are elements that you refine with hot foil or hot foil relief embossing. The embossed motifs or texts are additionally embossed with a foil in gold, silver, copper, bronze, red or blue.
If you want to give your cards an exclusive glossy effect, it is best to choose UV surface varnish. Individual details can be highlighted with UV spot varnish or relief varnish.
If you wish, we can also combine various paper finishes for you. Please refer to the configurator to see which exciting combinations are possible.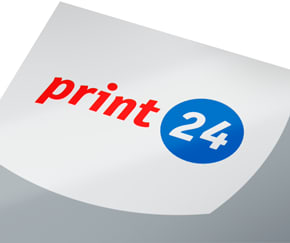 A protective varnish makes your product more resistant to wear and tear, more attractive to the touch and even more appealing to the eye. That's why a protective coating is the recommended finish for postcards, for example.
Calculation example
Postcards with protective coating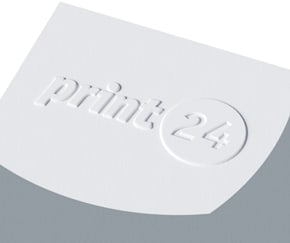 With blind embossing, you can highlight a motif vividly. If you choose a high embossing, your motif will be displayed in a raised position, if you choose a deep embossing, the motif will be imprinted as a dent in your printed product.
Calculation example
Postcards with blind embossing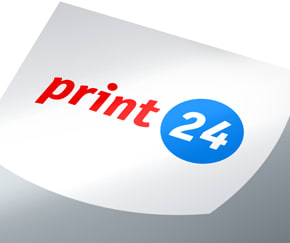 With laminating, a wafer-thin film is applied to your printed product. This gives your printed product a higher quality and at the same time makes it more robust.
Calculation example
Postcards with cellophane coating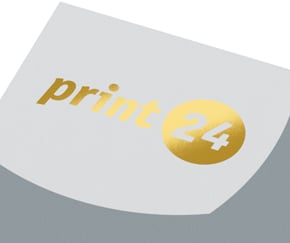 Hot foil stamping uses pressure and heat to apply coatings from a carrier foil to your printed product. This allows you to enhance your print product with metallic effects, for example.
Calculation example
Postcards with hot foil stamping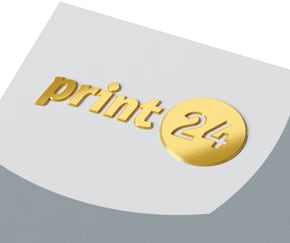 Hot foil relief stamping is a combination of relief stamping and hot foil stamping and combines visual and tactile effects.
Calculation example
Postcards with hot foil relief stamping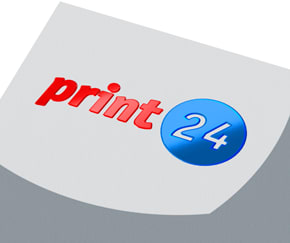 With relief varnish you can highlight certain areas of your printed product both visually and haptically, these are printed glossy and elevated.
Calculation example
Postcards with relief varnish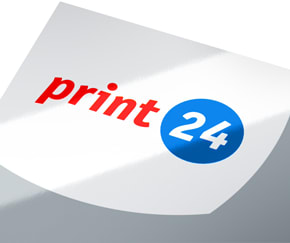 With UV surface varnishing, an additional layer of varnish is applied to your printed product, which gives it additional protection and makes it look even higher quality.
Calculation example
Postcards with UV surface varnish
With UV spot varnishing, the varnish is applied only partially. This allows you to highlight certain areas of your product both visually and haptically.
Calculation example
Postcards with UV spot varnish
What printing options are available for postcard creation?
By default, we use the CMYK four-colour process to print on your postcards. It is used to produce photos, graphics or illustrations in any possible colour.
The combination of CMYK / Black with Pantone ensures consistent results. If you want a full-surface paint application, it is best to use special colours. Thanks to the unique colour code, colour deviations are excluded.
After printing, we cut your postcards to size. Optionally, we can round off the corners. If you want to send your postcards as folding cards, attendance cards or vouchers, we can also insert groove or perforation lines. From a grammage of 170 gsm, we recommend creasing folding cards anyway.
As a special highlight, we offer two options for printing gold or silver inks. First the classical method in offset printing and second in digital printing. With the latter, it is also possible to use with small print runs. Printing of Gold Digital/Silver Digital is done using metallic toner with special pigments that create a reflection. As a result, it is in no way inferior to offset printing and enables metallic effects even in gradations.
With the "Gold/Silver Digital" option, four-colour printing can be enhanced with gold and silver at the same time! The luxurious silver and gold decorations complete your professional appearance. Whether delicate highlights or full-surface printing - silver and gold inks can mean the difference between just looking at and wanting to keep.
FAQ to product postcards
Do the postcards have elements on one side for postage stamps and recipient address?
No, you have to choose a 2-sided postcard and create it separately on page You can use our FreeDesign tool. It provides you with free-of-charge designs and templates!
Which paper selection is suitable for postcards?
Of course the highest quality is always the use of a premium paper, but beautiful and most of all stable, with a "familiar" feel is the use of Chromokarton. Most postcards are ordered on Chromokarton with an one-sided lamination.
Are there suitable envelopes for my postcard order?
Matching envelopes can be ordered separately.
Can I also order postcards folded in the middle?
Yes, these are generally referred to as folded cards and can be ordered separately.