Beanie hats
Better print online!
Product
Properties
Placement of theme 1 Forehead centre
Placement of theme 2 No placement of theme
Quantity
Delivery
Standard estimated by 12-13/12/2022
Data
Transfer print data later
Selected product configuration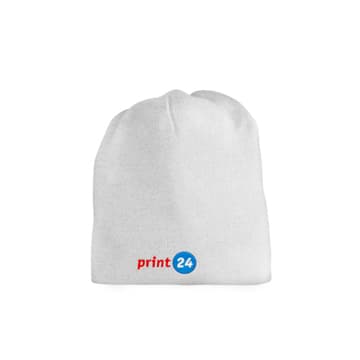 Beanie hats
12-colour embroidery
myrtle beach Classic
Classic
Off-white
Universal size
Embroidery
5 Pieces
1 Theme
Delivery in United Kingdom
Estimated by 12-13/12/2022
Transfer print data later
Free print data check
£ 95.44 | £ 114.52
Ex. VAT | Inc. VAT Plus £ 4.13 | £ 4.96 Dispatch
Beanie hats
12-colour embroidery, myrtle beach Classic, Classic, Off-white, Universal size, Embroidery, 5 Pieces, 1 Theme, Delivery in United Kingdom, Estimated by 12-13/12/2022, Transfer print data later, Free print data check
£ 95.44 | £ 114.52
Ex. VAT | Inc. VAT Plus £ 4.13 | £ 4.96 Dispatch
Have beanie hats embroidered
Beanie hats have been a popular fashion trend for several years now. They can be used for sports, or an oversized beanie hat can be worn as casual leisurewear. Here at print24.com, you can customise these trendy hats and have them professionally embroidered with your design. You can choose from various different colours for classic or oversized beanie hats. Configure your order right here online with just a few clicks.
Whether it is for winter sports or a casual stroll through the town, for younger people the beanie hat is simply indispensable. Here print24 offers you two different versions: the traditional hat version "Classic" and the casual version "Oversize". This practical hat not only fulfils a very useful function by keeping the head warm but is also a fashion statement. You can take advantage of this huge popularity and have beanie hats embroidered as promotional gifts. Especially recommended here are the oversized models. These are particularly well received by those in the under-25 target group.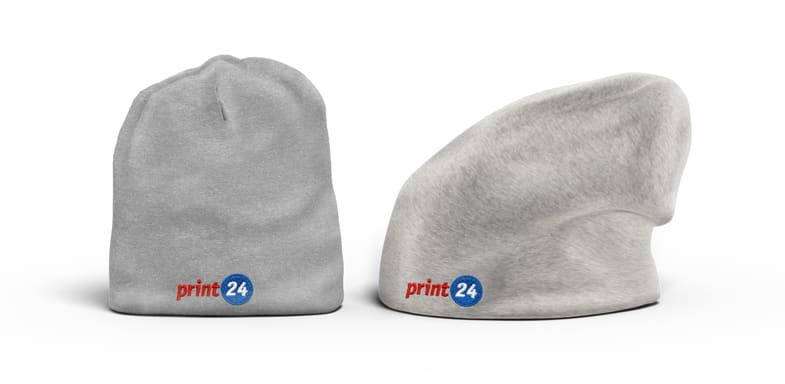 Beanie hats for clubs and associations
How about kitting your football team out for the winter in beanie hats embroidered with your club motif? Or what about custom-embroidered hats for your club members? We would be happy to help you with any questions regarding the configuration of the design area. Just give us a call or get in touch by email. We will, of course, answer your questions on a one-to-one basis.
Beanie hat embroidery for resellers
If you are creative and would like to customise these stylish hats with your own designs and sell them, print24.com is perfect for you; the beanie hats we use feature a very high level of workmanship. At the same time, you can have confidence in a consistently high level of quality from us.
Colour selection for the Beanies
At print24.com caps can be printed in different colours depending on the chosen design.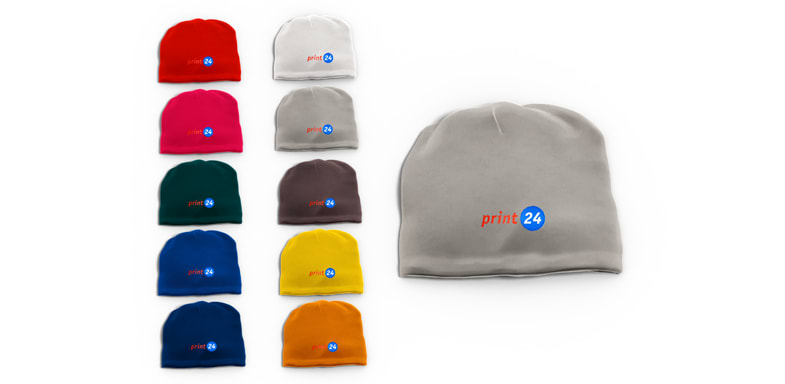 Classic
Off-white, Blue, Dark green, Yellow, Light grey melange, Navy, Orange, Pink, Red, Black
Please consider the selected cap colour when choosing your printing colours, so that your motif is shown to advantage.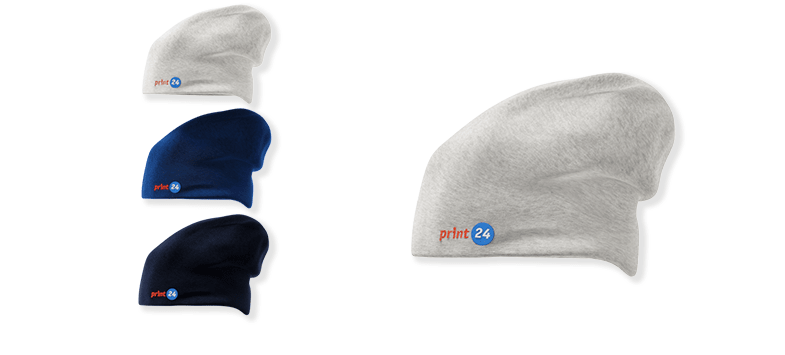 Oversize
Greying, Navy, Black
High-quality embroidery in up to 12 colours
While motifs are applied to surfaces by printing, embroidery enables them to be woven directly into textiles. This particularly durable embroidery, which is also resistant to washing and light, is particularly suitable for heavy-duty clothing, such as workwear. The use of high-quality yarn colours creates colour-fast and noble-looking embroidery designs.
There is an area of 100 x 50 mm on the front of the hats for your design.
Motif in forehead area
An area of 100 x 50 millimetres is available on the front of the Classic and Oversize caps as a customisable section.