Office Supplies
Print better online!
Individual note pads & notebooks ideal for notes and records
At print24 you can print cheap and customised note pads and notebooks, ideal for notes, record keeping and office use.
Available in a variety of sizes and finishes, at print24 you will find the right notebooks, printed with your design, for almost any application.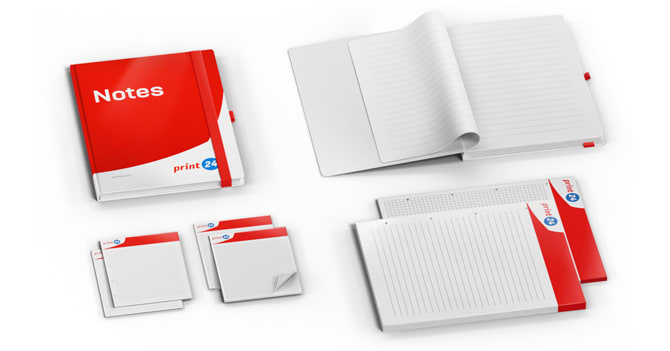 Ballpoint pens & stamps - practical helpers for everyday office work
Practical helpers such as pens and stamps have become an integral part of everyday office use.
The print24 pens are available in three different finishes, with three different colours, e.g. printed with the logo of your company.
print24's comprehensive range of stamps includes, among many others, date stamps and booking stamps, which can be used to quickly and easily provide documents with a date or a booking note.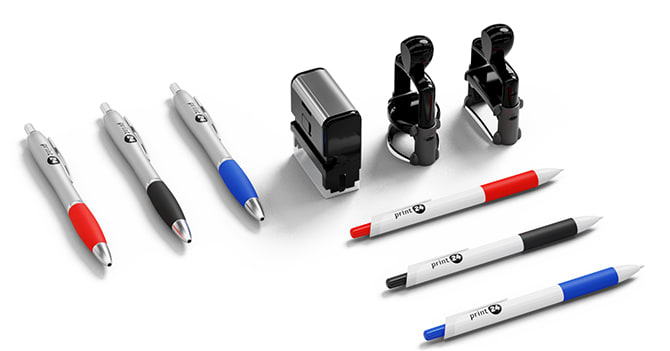 Custom Sticky Note Pads & Sticky Note Sets to make your brand stick
With individually printed sticky note pads and sticky notes from print24 your brand will be remembered, since sticky notes are often placed as a reminder in a clearly visible manner.
The sticky notepads of print24 are available in various formats and with 50 or 100 sheets.
The sticky note sets contain not only sticky notes but also film markers (practical differently coloured adhesive strips), which can be used as bookmarks.
Both the sticky note pads and print24 sticky notes are ideal office products to promote your brand.