Stamps
Better print online!
Personalised stamps
Stamps have played a major role in administrative work for several centuries, and continue to do so even in today's digital age. They allow bookings to be confirmed or deliveries to be receipted quickly and easily. Once created, the product can be used for years without any problem. But stamps are also suitable for many other purposes, both private and professional. At print24.com, you can configure your own personalised stamps, and order and create them online. We can produce up to 10 stamps per order, in top quality and at reasonable online prices. So start configuring your premium stamps incl. ink pad now. We look forward to your order!
While elaborate wax seals or signatures were used in the Middle Ages to confirm receipt of money or goods, the early 17th century saw stamps start being used in the Netherlands. They were a quick, cheap way for state officials to confirm receipt of taxes, fees or other levies. The groundbreaking Dutch invention became popular all over the world during the centuries which followed. Stamps had been used to manufacture coins long before this in Babylon, but it was in Holland that they were first used for the purposes we are familiar with today: with embossed rubber letters which are pressed onto a pad moistened with ink.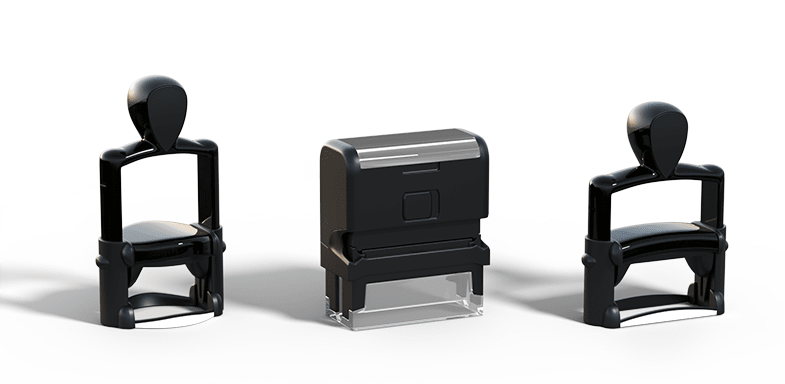 Your choice of stamp format
We offer our stamps in many different formats so that a suitable model can be found for every purpose. In addition to the conventional rectangular formats, we also offer round and oval stamps. The format perfectly matches the size of the stamps' text panel. When designing yours, make sure the font size is at least 5, and that you have selected 100% black/white as the colour mode.
For serif fonts and fine writing fonts, we recommend choosing a larger font, because otherwise the serifs could be omitted due to production. For optimum processing, send us your templates as PDF vector graphics. Please note that, due to technical requirements, colour gradients or complex graphics cannot be processed.
Print area Professional Dater:
Professional Dater 5440 (print area 56 x 26 mm)
Professional Dater 5460 (print area 56 x 33 mm
Professional Dater 5470 (print area 60 x 40 mm
Professional Dater 5415 (print area 45 mm round
Print area Printy:
Printy 4912 (print area 47 x 18 mm)
Printy 4913 (print area 58 x 22 mm)
Printy 4915 (print area 70 x 25 mm)
Printy 4916 (print area 70 x 10 mm)
Printy 4922 (print area 20 x 20 mm)
Printy 4923 (print area 30 x 30 mm)
Printy 4924 (print area 40 x 40 mm)
Printy 46025 (print area 25 mm round)
Printy 44055 (print area 55 x 35 mm oval)
Print area Professional:
Professional 5203 (print area 49 x 28 mm)
Professional 5204 (print area 56 x 26 mm)
Professional 5205 (print area 68 x 24 mm)
Professional 5206 (print area 56 x 33 mm)
Professional 5207 (print area 60 x 40 mm)
Professional 5208 (print area 68 x 47 mm)
Professional 5211 (print area 85 x 55 mm)
Professional 5212 (print area 116 x 70 mm)
Professional 5215 (print area 45 mm round)
Individual stamps for every occasion
No matter whether your stamp is used daily in the office or for private use, at print24 you will find the right model for every purpose.
Depending on the model, our stamps have housings in black, blue, fuchsia, green or red.
Professional Dater:
Self colouring date stamp
Simple date setting
Available with patented high-performance date bands
Rugged stainless steel-metal housing with steel core
Optimised text plate guidance guarantees excellent print quality
Anti-slip grip zone
Printy:
Ideal as company stamp to take with you or for private use
Text and date can be combined
Particularly small, lightweight self-inking stamps
Exactly placed print through panorama view window
Clean cushion change thanks to special grip zones
Professional:

Self-inking stamp for daily use in the office
Metal stamp made of stainless steel, combined with plastic elements
Modern, timeless optics
Extra rugged housing
Strong steel core for long life
Grip zone with anti-slip effect
Perfect print quality thanks to smooth, even stamp movements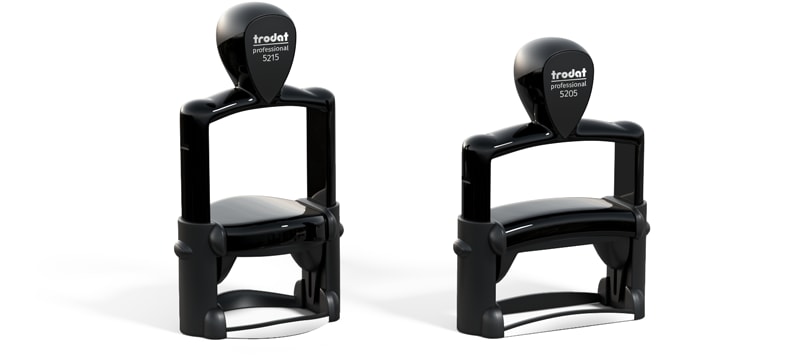 Tailored to usage – 4 pad colours to choose from
You can conveniently select your colour in the configuration menu. Our stamps are self-colouring, with an integrated ink pad. So if you choose green, the stamp print will also be green.
Choose from five different ink pad colours:
Blue, Green, Red, Black