Chocolate
Better print online!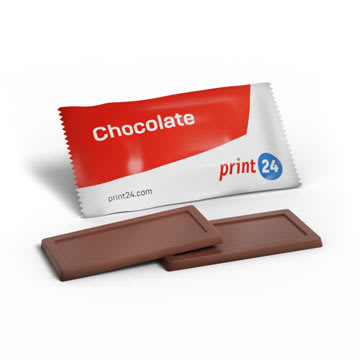 Chocolate
40 x 80 mm
4/0-coloured CMYK
Milk chocolate
5-g chocolate block, individually wrapped
Black
1000 Pieces
1 Theme
Delivery in Great Britain
By Wednesday, 08/06/2022
Transfer print data later
Free print data check
Chocolate
40 x 80 mm, 4/0-coloured CMYK, Milk chocolate, 5-g chocolate block, individually wrapped, Black, 1000 Pieces, 1 Theme, Delivery in Great Britain, By Wednesday, 08/06/2022, Transfer print data later, Free print data check
£ 466.96 | £ 560.36
| £ 5.17 | £ 6.20
Have packets of chocolate printed
Chocolate is the perfect advertising medium. After all, cocoa has a reputation for triggering a feeling of happiness. At print24.com, you can have small packets of chocolate, each containing a bar of fine Gubor chocolate, custom-printed as promotional items. If you have already created a print file, you can start right here online with the configuration of your printed packets of chocolate.
Children love chocolate, and even adults are fond of the small cocoa-rich bars. It is said that the consumption of cocoa can elicit feelings of pleasure. Whether it is as a comfort food, an accompaniment to coffee, a treat between meals or a "pick-me-up", chocolate is always a good way of giving someone a little treat. It's hard to think of a snack that is better suited to being an advertising medium. We will print your advertising message, company slogan or images onto the small packets of chocolate. You can distribute them at trade shows or events, enclose them as a little giveaway with each product bought in your shop or hand them out to your employees as a little something to encourage them.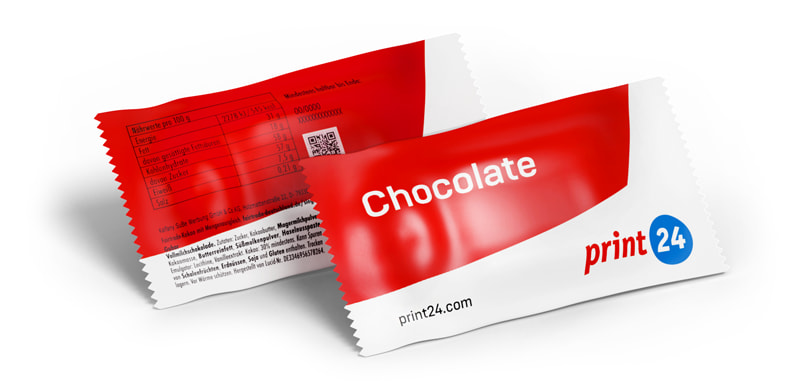 Chocolates in small bars
The chocolate bars are individually packed in a high-quality flowpack made of shiny white foil. On this material we print your motives on the whole packaging of the chocolate. The visible area on the front for your logo and advertising message has a size of 75 x 40 millimeters.
When creating the print file, observe the specifications in our data sheet. In this way you avoid unnecessary complications during printing and we can complete all tasks for you smoothly and promptly.
Delicious milk chocolate from Gubor
With these little chocolate bars, you can give your customers, prospective customers or employees a really enjoyable treat. This is because, inside each practical flow wrap, there is a five-gram mini-bar of real Gubor milk chocolate with a cocoa content of 30 per cent.
This traditional manufacturer has been known for many years for its exquisite quality and the especially creamy taste of its chocolate. The recipients do not have to polish off their chocolate immediately because, when properly stored, it can last for up to six months.
CMYK print on white flow wrap
For the printing of your packets of chocolate, we use the tried-and-tested CMYK printing process. With this four-colour printing process, there are practically no limitations on your selection of design. We can easily print photos, graphics, logos or text onto the flow wrap film. The base colour is white, but CMYK does, of course, allow for full-surface printing.
On the back, we automatically add information about ingredients, distributor and best before date in black lettering on a slightly transparent white field. You do not have to create this area separately in the print file. Please be aware that there should be no important elements in the place of the mandatory information, or else they will be covered up!