Ice scrapers
Better print online!
Have ice scrapers printed
Give your customers a practical promotional gift for the winter and have ice scrapers printed at print24.com. Our products are robust, handy and fit comfortably into any glove compartment. We can offer you several different colour options for your ice scraper printing. Start your print job right here online with just a few clicks!
For some, winter is a glorious season with beautiful, icing-like ice crystals on the windows. However, for motorists, the cold season is unfortunately usually associated with iced-up windows. But how about if your customers could de-ice their car windows with ice scrapers that you have had customised? So you could give them a smile every cold morning, for example, if you have a witty slogan printed on the scraper. Of course, this practical car accessory can also be used for conventional advertising with your slogans or logos. Start designing your ice scrapers right away and create your print file conveniently online.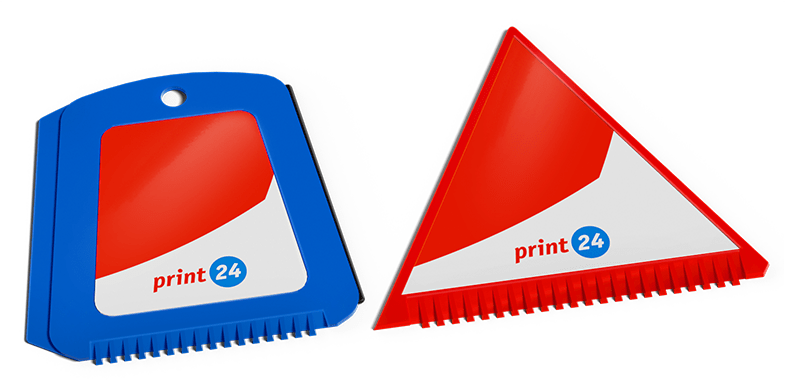 Print area of the ice scrapers
With the dimensions of 114 x 101 x 3 mm (triangular) and 120 x 120 x 4 mm (trapezoidal), both tools fit very well in the hand. The printing area of the triangular ice scraper is also an equilateral triangle, with a side length of 60 mm or 92 mm each (white scraper + CMYK only). The trapezoidal model has a more rectangular print area. You can choose between 45 x 70 mm or 114 x 115 mm (white scraper + CMYK only).
When creating the print file, observe the specifications in our data sheet. In this way you avoid unnecessary complications during printing and we can complete all tasks for you smoothly and promptly.
Practical ice scrapers with your custom-printed design
For the printing we use ice scrapers in handy trapezoidal or triangular shape made of robust polystyrene in the colours blue, white and red. One side has a serrated edge that can be used for hard ice crusts to break ice. The other side has a sharp edge for ice scraping of light frost.
The trapezoidal ice scraper also has a practical rubber lip that can be used to wipe off water from wet car windows.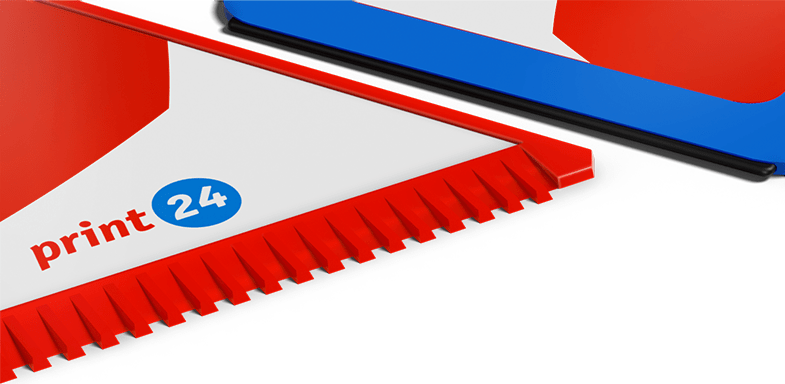 Modern printing processes guarantee high print quality
We can print your ice scrapers using black or spot colours. In addition, you can also select CMYK printing in the configuration menu, which allows a very broad colour palette and photo printing. When choosing the colours, please consider the background colour of your printed products. For example, light blue text on a white ice scraper would be very hard to see.
Please be advised that printing in CMYK is only possible on the white ice scrapers! If you have any questions about the printing options, please feel free to give us a call or get in touch by email. We would be happy to help.