GreenLine
Print better online!
Print business cards in an environmentally friendly way on premium recycled paper.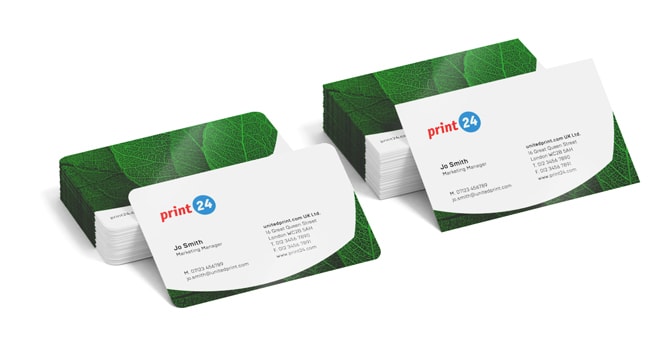 Show with your GreenLine business cards that sustainability is not just words for you. We print your business cards in 55 x 85 or 90 x 50 format on white or bright white premium recycled paper.
Benefit from a high-quality look that can be enhanced with classic finishes such as UV spot varnish or cellophaning.
Whether elegant printing in black or in colour, we print your sustainable business cards on one side or, on request, as folded business cards on four sides.
Sustainable flyers for environmentally conscious companies
Flyers are irreplaceable for advertising events, gastronomy or at trade fairs. With our GreenLine flyers, you combine the sustainable use of paper with the highest paper quality. Our flyers made of premium recycled paper are available in three paper types, five formats and six different grammages.
On request, we can produce your flyers as Leporello, single-sided or as traditional folded flyers. To highlight individual motifs or lettering, we recommend UV spot varnish. With lamination, your flyer becomes more robust and at the same time more elegant.
Notepads with that special something
Even in the age of smartphones, tablets and the likes, notepads are important aids in everyday work. With a GreenLine notepad, you can rely on high-quality special recycled paper in various designs. At the same time, you have the option of choosing the right one for your writing pad with 25 or 50 sheets from six DIN formats from A7 to A2.
GreenLine letterhead for environmentally conscious customers
Whether it's business correspondence or private mail, you can set the tone with high-quality stationery. Our premium recycled paper combines sustainability with exclusivity and is available in three grammages. With just a few clicks, you can create your print order online here.
Have environmentally friendly brochures printed on premium recycled paper.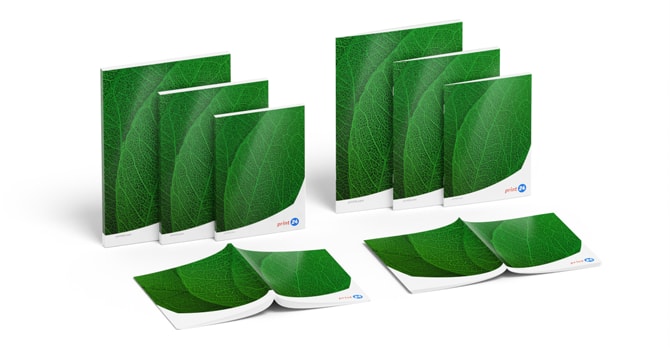 With GreenLine brochures, you can present products or services to your customers on high-quality yet sustainable paper. If you opt for perfect binding, we can produce brochures of up to 304 pages for you. If you need brochures with up to 100 pages, staple binding is also possible.
For a special impression, we recommend Premium White offset paper, which perfectly reproduces your content on a bright white background.
In the GreenLine series, we also use the high-quality recycled papers for the cover.
Postcards with a sustainable claim
Combine exclusivity with sustainability when sending postcards. Our GreenLine series postcards are available in seven different standard formats from DIN A7 to DIN long and DIN A5.
You can choose from our special recycled papers in the standard or premium version.
If you wish, you can also choose a suitable finish to give your sustainable postcard a visual or tactile highlight on the front or back.
Have posters printed sustainably on special recycled paper
Whether for events, trade fairs or scientific presentations, posters are the perfect way to present information. And when your message is printed on sustainable special recycled paper, your poster will make the perfect impression.
Choose between standard or premium white and from four DIN sizes from A4 to A1 and benefit from sustainable paper in excellent quality.
Carbon offsetting for your print products
As an environmentally conscious company, in addition to our ecological GreenLine, we also offer you the option of working with us to offset the CO₂ emissions from the production of all other paper print products. For CO₂ offsetting, we work together with the renowned and TÜV-certified organisation ClimatePartner. As proof, you will receive a certificate with a distinctive order ID for download.
Our climate protection projects
With every order, you support two climate protection projects selected by us. In the climate protection project in Matavén, Colombia, more than one million hectares of tropical rainforest and the indigenous population are protected with your carbon offset payment. In the drinking water project in Mozambique, Africa, well systems for a hygienic water supply are set up and repaired.