Monthly calendars
Better print online!
Have 3- and 4- Month calendars printed
Most of our appointments today are recorded in a smartphone or a virtual calendar. But to look quickly for a date, desk calendars as a three-month calendar or four-month calendar in the office or at home are still simply priceless. Because that means that we have an entire quarter in mind and can plan vacations, navigate ourselves at customer or medical appointments or simply look for the next holiday. It's not for nothing that these wall calendars are popular giveaways for three or four months and perfect for strengthening your brand or corporate identity.
3- and 4- Month calendars in your corporate design are ideal advertising giveaways and also make perfect office equipment. At print24.com, you can have 3-month and 4-month calendars printed online in various designs and at reasonable prices. Benefit from high-quality processing, the best materials and excellent printing: start your print job right here online.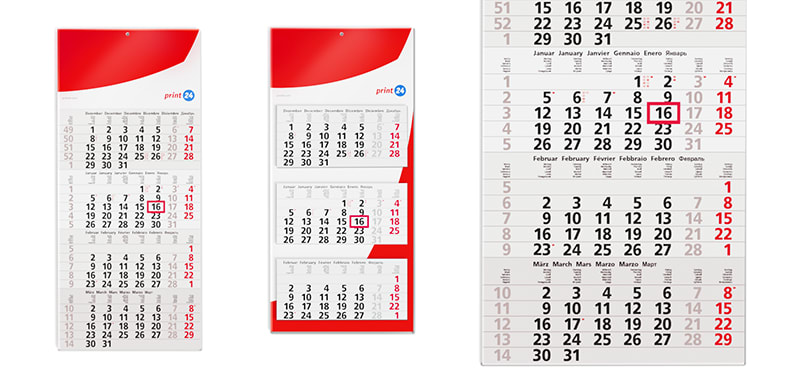 3-month and 4-month calendar in various formats
There are two different sizes to choose from, depending on whether you choose a single-sheet or multi-block calendar for three or four months. With single-sheet calendars formats of 300 x 490 millimeters or 300 x 530 millimeters are possible. The print area for these calendar formats is 300 x 150 millimeters.
Multi-block calendars offer a larger print area. For these, the print area is the calendar format of 330 x 700 millimeters for the three-month view and 330 x 900 millimeters for the four-month view.
3- and 4-month calendar with different calendars
Print 3-month and 4-month calendars for next year. There is an option for different, multilingual calendars. This makes our 3- and 4-month calendars perfect for the international market. The basic version offers a calendar in German, English and French. Depending on the market orientation, you can choose Dutch, Spanish or Italian as the fourth language. The abbreviations for the days of the week and months are then printed in the selected languages ​​on the calendar. In addition, holidays are indicated with a country code where they are celebrated.
Single-sheet calendar or multi-page calendar
At print24.com, you can configure three-month and four-month calendars as either single-sheet or multi-sheet calendars. The three-month calendar has a perforated calendar with grooved back wall. Thus, the calendar can be folded to B4 large letter format. An additional annual calendar is printed at the foot of the calendar for easy reference.
The three- or four-month multi-block calendar is individually perforated and has a block holder punching. The back wall is grooved three times to fold. As with all other calendars holidays are provided with the respective country code. In addition, the multi-block calendar has a hanging loop made of metal.
Our mini three-month calendar for placing on tables or sideboards has the format 95 x 198 millimetres. The calendar block is glued to the back cover. You can print your advertising messages, slogans or company information on the back cover as well as on the top and bottom of the stand-up calendar.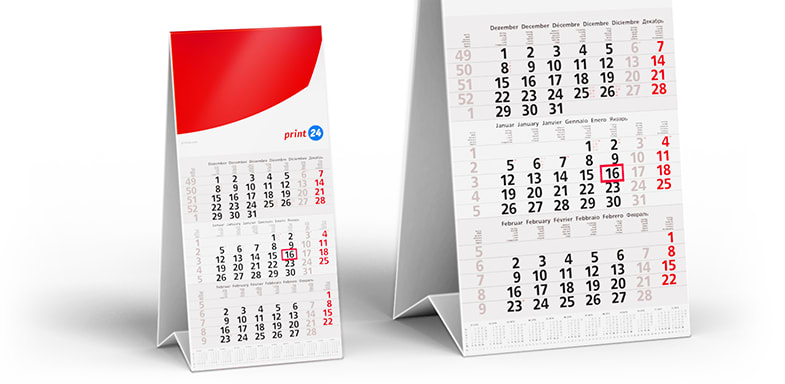 High quality materials and convenient features
For the printing of your 3-month-calendar or 4-month-calendar, we use one-side glossy backing paper. The chromo box is processed as a triangular roof display, which contains a red date slider made of plastic. This allows you to manually mark the current date. With the practical suspension punching, the 3- or 4-month calendars can easily be hung on the wall. The calendars are delivered as a flat, processed print, making them perfect for mailing.
Calendar printing in CMYK for maximum flexibility
We print your three-month or four-month calendar using the proven CMYK four-colour process. This gives you maximum flexibility in printing, as you can easily print graphics, photos or logos on the double-coated chromo carton. Please note the minimum resolution when creating the print file, so that the images are not pixelated. We are happy to help you with any queries regarding your order. Call us.