Dextrose candy
Better print online!
Have promotional dextrose candy packets printed
What could be better than an advertising medium that provides customers with renewed energy? Here at print24.com, you can have packets of dextrose candy printed with your logo or slogan. Print runs start at 1,000 pieces. Start your print job right here online and configure your print specifications with just a few clicks!
They are sweet and deliver quick energy: pieces of dextrose candy have been popular sweets for many years, during sport, at the workplace and at school. With custom-printed packets of dextrose candy as promotional gifts, you can delight your customers and give them real added value.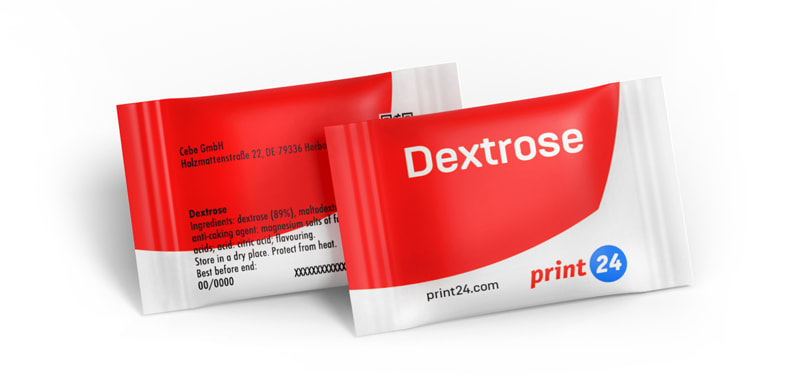 Space for your advertising messages
The small dextrose pieces are packed in a shiny white foil in the format 60 x 90 millimetres. This area is partially available for printing. You should place your slogans or logos in the front visible area of 60 x 35 millimetres.
When creating the print file, observe the specifications in our data sheet. In this way you avoid unnecessary complications during printing and we can complete all tasks for you smoothly and promptly.
Renewed energy with Dextro Energy
Dextrose candy is a fast energy supplier. Our printable packets of dextrose candy are filled with a quality product from Dextro Energy. For many years, this company has been a byword for high-quality dextrose candy products.
Whether it is for sport, at school or in the office, these little packets of energy are always the perfect companion. The packets of dextrose candy are perfectly suited for advance ordering as the contents can be stored for at least 18 months in cool and dry conditions.
Four-colour printing on white, glossy film
To print your design onto the film, we use the CMYK four-colour process. In this way, all possible colours can be printed, and you benefit from maximum flexibility in the design selection.
In accordance with the legal requirements, we automatically print information regarding the ingredients, the "Best before" date and the legally responsible distributor on each packet.
You do not have to specify these details in your print data. Please be aware that there should be no important elements in the place of the mandatory information, or else they will be covered up!