Packaging tape
Better print online!
Custom printed packaging tape
For many people, packaging tape is a rather insignificant element of the overall logistics process. But it can do more than just protect and secure parcels. Packaging tape also has huge advertising and branding potential. Take advantage of this for a bit of promotion or branding by using personalised packaging tape? Here at print24.com, you can have your motifs, slogans or company logos printed on strong, top-quality and highly adhesive packaging tape. It'll mean your parcels attract attention and stays in the memory of the recipient. With state-of-the-art printing equipment, we complete your printing orders in top quality and at fair prices.
Corporate design doesn't stop with packaging. That's why many large companies also use their corporate colours and logos when printing packaging tape. Combined with matching packaging materials like envelopes or parcel packs, you can deliver a highly aesthetic overall product. The good thing about print24.com is that you don't need to be a big company to make your logistics processes more professional with personally printed packaging tape. We can print your packaging tape in quantities from as small as 36 rolls per order. All you need is a printing file. Compile your order in just a few clicks, and we'll deliver your tape to you within a few working days.
Practical format
We print your motifs on packaging tape with a width of 50 mm and a convenient length of 66 m. The core diameter of the rolls is 76 mm. It's up to you how long your motif is. Choose from a total of 11 lengths, ranging from 169.6 mm to 458.8 mm.
Please note that the size corresponds to the printing area. For more information, see the data sheet on our website.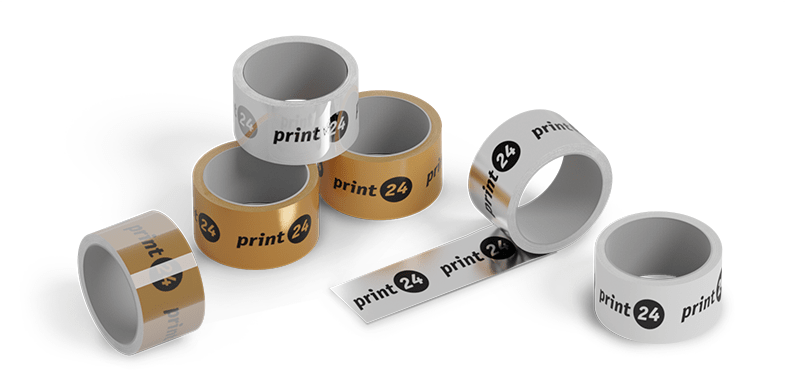 6 different designs for your packaging tape printing
We print your motifs on polypropylene film or PVC packaging tape. Both materials are distinguished by excellent adhesion to all kinds of surfaces. Please note that a maximum of only two colours can be printed on polypropylene film.
Both PP film and PVC film can be configured in white, brown or transparent.
Your printing options – special colours also available
If you want to achieve unique visual effects for your promotional messages or instructions, we recommend printing in special colours like Pantone. Prints in gold or silver can also look very elegant, e.g. on Christmas packaging tape.
Please note that we can only print your motifs in full tone. We print using the flexographic printing process and point out that colour and print variations can occur. A maximum colour deviation of one tone according to the colour scale is permissible.
Use printing formes several times
We use printing blocks which are custom-made for each order. If you want to place an identical repeat order with print24.com, you can use the same block again without having to pay for a new one.
When ordering again, select your existing form under "Image length" in the configuration menu. After printing, we store your printing forms for a maximum of one year.