Pavement signs
Better print online!
Order pavement signs
You'll draw attention to your products or services particularly efficiently with a pavement sign. Set up in a jiffy, these items can be quickly and flexibly used in many different areas, such as pedestrian zones, at trade fairs or in showrooms. Here at print24.com, you can easily design your own display board yourself. Whether it be splash-proof boards with water base or stylish indoor-suitable boards, you're always bound to find a suitable product for your desired purpose. Order your top-quality display boards from us at low prices online!
When choosing a suitable display board, you should first think about whether the advertising material is to be used indoors or outdoors. We offer two different basic options. The indoor- model can predominantly be used in buildings or, in calm, still weather, outside. The robust model with a water base, on the other hand, is a splash-proof board, which remains valiantly in position in wind or splashing water.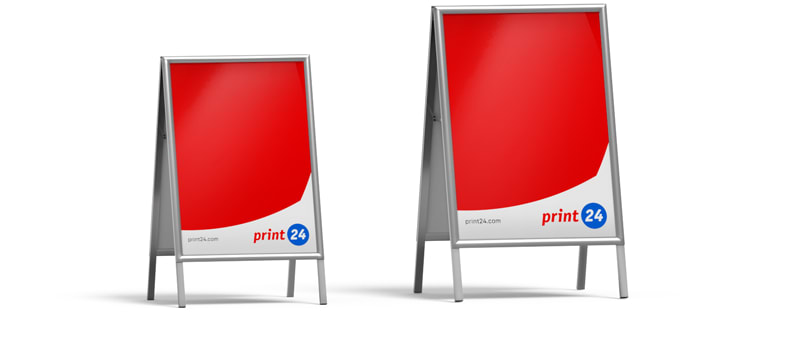 Which formats are available?
Our indoor-suitable pavement signs come in four conventional DIN formats. In DIN B2 format, you'll attract attention with an area of 500 x 700 millimetres. DIN B1 will give you even more space. This board can be used to display large 700 x 1000-millimetre posters. Alternatively, you can also select the DIN A1 format, which provides added space. Our largest format for indoor-suitable pavement signs is DIN A 0.
Measuring 841 x 1180 millimetres, you'll really create an impression at trade fairs or exhibitions!
If your promotional boards are predominantly intended for outside use, you can select two sizes (DIN A1 and DIN A0) for the boards with water base for your banners and posters.
Top material for added stability and durability
High-quality aluminium is used in the frames of print24.com's pavement signs, making them both light and robust. To ensure your posters and banners can achieve maximum impact without bothersome light reflections while still being protected against fading, both the indoor-suitable stand and the model with water tank feature a non-reflective film. Holes are punched into the undersides to allow rain or splashed water to drain. Among other things, this prevents moisture from getting stuck in the frame.
We use coated art paper with a grammage of 135 gsm for equipping your displays. This is a high-quality and double-coated branded paper. Depending on the machine production, the paper can then be finished with a dispersion varnish. Therefore, we do not guarantee any ability to write on or print on the paper at a later date.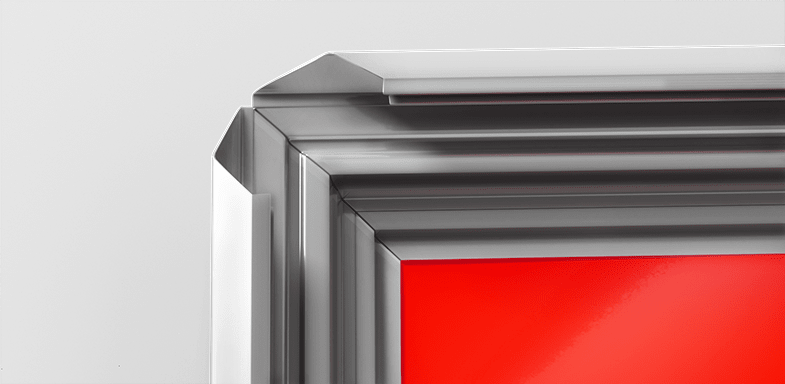 Super quick and flexible handling
The super lightweight aluminium means our pavement signs' fold-away frames are very easy to handle. The practical snap frame allows content such as posters to be quickly inserted and, if necessary, replaced. The frame can be opened in the blink of an eye. Place the print product inside, and simply snap the lock shut. To achieve an even bigger impact, both the indoor-suitable stand and the splash-proof model can be made single or double-sided. If you want to use both the front and back of the display, you can choose whether you want to print the same or two different motifs!
To ensure the splash-proof board does not topple over in the wind, it also has a water tank with a maximum capacity of 37 litres. The tank is fastened to the frame with springs to enable the board to give in when hit by wind gusts. Despite weighing over 40 kilograms with a full tank, the pavement sign is still very easy to move thanks to its integrated castors.
This is how we print your customer stoppers
Printing is 4/0 colour in CMYK. Benefit from our years of expertise as an online print shop, and utilise your price advantage by ordering pavement sign incl. posters online here at print24.com. With optimised processes and cost-effective production, you'll not only profit from our products' top quality, but also from extremely low prices!
When creating the print file, observe the specifications in our data sheet. In this way you avoid unnecessary complications during printing and we can complete all tasks for you smoothly and promptly.