Ring binder folder
Better print online!
Custom printed ring binder folder
Ring binder folders are more than just versatile office filing systems; they are an attractive way of presenting or storing documents. You can have your ring binder folders printed here at print24.com. All you need is a print file, and your order can then be configured conveniently online. You'll enjoy excellent printing quality and additional refinement options for your ring binder folders. We can also print your folders at very fair prices thanks to modern printing processes and a customer-oriented price strategy. Our service is aimed at both private customers and key accounts with a printing volume of several thousand folders per order.
Ring binder folders are a way of filing documents neatly, while also presenting them attractively, making them extremely versatile. Real estate agents use them to make their property profiles look more exclusive, while salespeople fill them with their company's products for more visual presentations. Insurance brokers collate all their clients' important documents in ring binder folders, allowing them to hand things over in neat, organised fashion. And car dealers can use them to process all the paperwork associated with car sales. Ring binder folders are also suitable for logistics service providers whose drivers require delivery slips or other documentation to export goods.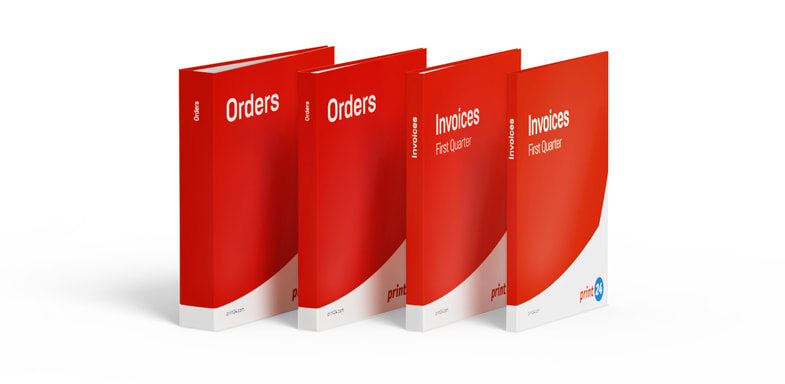 Practical folders for your office
Whether you're a sole trader or SME with over 100 staff, every business prints out documents on a daily basis. And these papers need to be properly organised if you want to keep track of them. The larger the business the more "paperwork" builds up.
With individuall ring binder folders printed in different colours or designs, you'll make it easier to organise files in your office. You'll find that, not only will your office be tidier, you'll also enjoy consulting your personalised ring binder folders.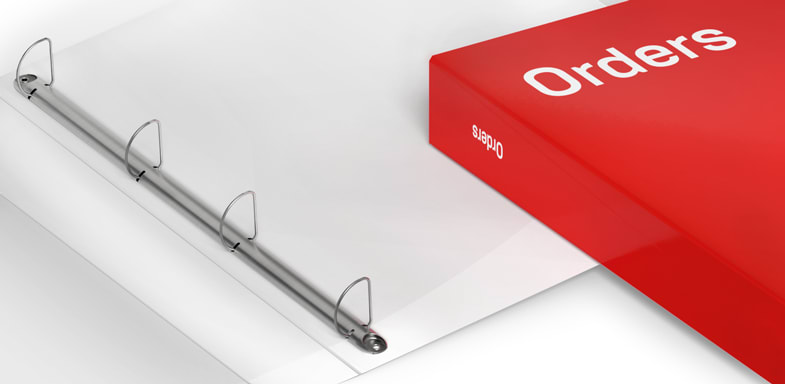 The design: Practical format for A4
We print ring binder folders suitable for storing A4-format documents, with a fill height of 10 mm. The ring binder folders also feature a D-shaped 2 or 4-ring clip mechanism, depending on the option chosen.
The practical thing about this is that documents can be both punched and stapled. The spacing between the clips matches the conventional hole-punching for A4 sheets, meaning plastic sleeves can also be used in the folders.
Refinement options: A more stylish look and pleasant feel
To increase the folders' strength and quality, print24.com laminates these as a standard. You can configure the additional refinement in four different versions. Both glossy and matte lamination gives your ring binder folders an attractive look
the matte scratch-proof option protects the exterior from scratches even after intensive use. If you want your folders to have an extraordinary feel, go for the linen finish.
Matte: Providing elegant, stylish understatement in your everyday office activities.
Matte, Scratch-proof: This refinement makes the folders harder wearing and more robust.
Glossy: Allowing your folders to visually enhance your office.
Linen-finish: The classic linen finish looks varied, and is also practical.
High-quality inks and tried-and-tested printing technology
We can either print just the outsides or also the insides of your ring binder folders. Choose from two standard processes with black-and-white and CMYK four-colour printing, which allows you to enjoy the full array of modern printing options.
The folders can be printed with photos just as easily as they can be created in one, single block colour, giving you maximum flexibility in terms of your motif.