Pillow boxes
Better print online!
Printed pillow boxes
Anyone hearing the name pillow box for the first time will think it is some sort of special packaging for pillows. But this product owes its name to its unique shape, which is reminiscent of a pillow. Their special design makes pillow boxes the perfect packaging for textiles, vouchers or gifts. If you want to print personalised boxes for your company or shop, print24.com is just the place for you. We can process your print order reliably, quickly and in top quality, in quantities from as small as 1.
The great thing about pillow boxes is their unique shape. The curved sides give the package a certain pizzazz and informality compared to strictly angular cardboard boxes. For this reason, pillow boxes make perfect gift boxes and are a stylish way to give vouchers, as well as jewellery or other valuable presents. If you yourself design and sell gift packaging, or need packaging for your shop, print24.com gives you the opportunity to print your own boxes.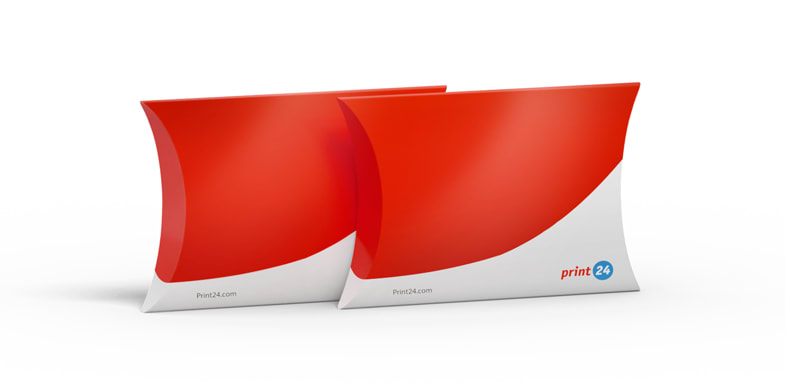 Formats for rectangular or square pillow boxes
We print pillow boxes in different formats. The square 60 x 20 x 60-mm format is particularly suitable for small, delicate products, while larger items fit comfortably in the largest version, with dimensions of 300 x 100 x 300 mm. With seven square sizes in between, print24.com allows you to print pillow boxes tailored precisely to your needs.
The smallest rectangular boxes available have dimensions of 60 x 20 x 120 mm, while shirts or several ties can easily be stored in the large box measuring 350 x 100 x 300 mm.
When creating the print file, please make sure you leave a 2-mm bleed. To avoid complications during printing, you should only use our PDF template for your print file.
Strong, high-quality cardboard for your pillow boxes
We use particularly strong GC2 chromo board to make your pillow boxes. Double-coated on one side, the advantage of this material is that it is especially rigid and offers great volume, making your pillow boxes robust and long-lasting.
We print on 250 gsm cardboard for side lengths of up to 150 mm. Pillow boxes with a maximum side length of 270 mm are printed on chromo board with a grammage of 300 gsm, while for large boxes with side lengths of 300 mm, we use cardboard with a grammage of 350 gsm, which guarantees maximum strength.
Classic CMYK four-colour printing
When printing your motifs onto the outside of your pillow boxes, we use the CMYK four-colour printing process as a standard. This gives you the greatest flexibility in choosing your colours and also ensures high print quality. We'll be glad to help you select suitable printing inks. Just call us or chat with us.


Processing of the Pillow boxes
After printing, your boxes will be punched, creased flat, and glued. To save space, they are then delivered unfolded.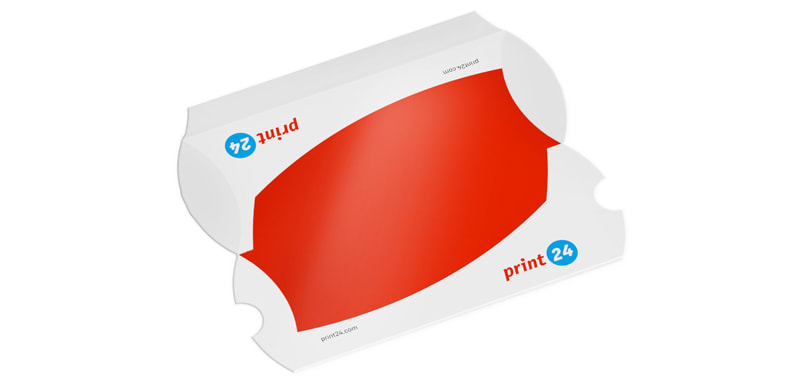 Even more exclusive thanks to refinements
If you value exclusive, unique packaging, you can further increase the degree of personalisation with a refinement option. For example, the team at print24 can laminate your pillow boxes, for which you have three possible choices. The gloss finish gives your box a smooth, shiny surface, while the soft-touch distinguishes it with a particularly pleasant surface feel. Elegant, matte lamination makes the box scratch-proof and more robust.
Combining this with UV spot varnish allows even more room for creativity. For instance, all sides can be laminated glossy and then treated with UV spot varnish. If you choose matte or soft-touch lamination, only one side will be laminated, and the other will be given UV spot varnish.