Coasters
Better print online!
Have coasters printed
Beer mats simply belong in every pub, beer garden and restaurant. They do not only protect tablecloths and table tops, but also can be personalised with individual prints. In addition, the beer mats can be used perfectly as a marketing instrument for branding or product advertising. With print24.com you can have your individual beer mats and coasters printed.
Individually printed coasters are not only suitable for the catering businesses, but also for weddings or larger company events, for anniversaries or resellers. If you have a suitable photo design or your company logo as a print file to hand, you can start your print order online right here and let us print coasters professionally.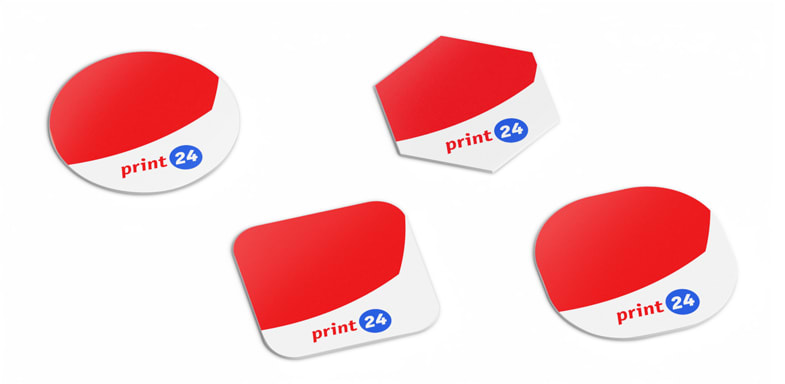 Create coasters in five different formats
If you are looking for the "classic" coasters for your business or event, we recommend the round formats with a diameter of 100 or 107 millimetres.
In addition, we print the typical square coaster in a format of 93 x 93 millimetres.
You can choose more shape varieties using the hexagon style with the dimensions of 100 x 87 millimetres.
An elegant variation, are coasters in the modern oval format with a diameter of 100 millimetres at the widest point
High quality groundwood pulp board for maximum absorbency and stability
For the printing of your coasters, we use high-quality groundwood pulp board with a thickness of 1.4 millimetres and a grammage of 575 gsm. This is cardboard made of defibrated wood with a slightly yellowish colouring. This colouring results from the lignin content of the cardboard.
The material ensures that your coasters are particularly stable and at the same time very absorbent, making them perfect for beer mats or drink coasters.
The surface of the cardboard is slightly structured and is very suitable for printing your messages for advertising or your company logo.
Design the front of your beer mat for single side use or the front and back for double sided
When printing your coasters we use the proven four-colour process in CMYK. This enables us to achieve a very high colour brilliance and depth even on groundwood pulp board. You can be creative in your choice of design.
You can have both photos and graphics printed. We print either the front or optionally front and back for you. This way you could, for example, use the back for a special offer or advertising message.