Deck chairs
Better print online!
Printed deck chairs
In the summer, loungers simply are a must. They are comfortable for you to relax with a cold drink, to sit in a summers bar or to sunbathe at the beach. With print24.com you can have your deck chairs printed. With us you can choose between three different variants for printing.
With personalised deck chairs you can make the outside areas of your hotel around the pool or your beach bar even more attractive. We print a design of your choice on the deck chair itself. You could also add a corporate logo or a summery design that suits your target group? Printed deck chairs are also ideal promotional gifts and merchandising articles for breweries and other suppliers to the catering trade. At print24.com you can have your deckchairs printed at a reasonable price!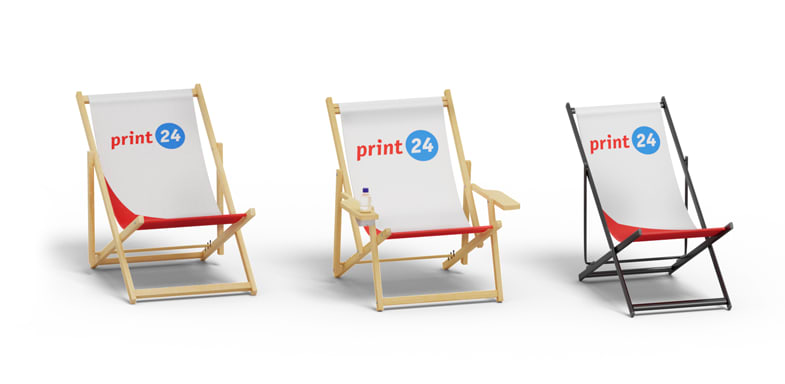 Three handy formats for deck chair printing
Our simple wooden deck chair offers a comfortable lying surface of 990 x 420 millimetres. The robust slats have a thickness of 30 x 20 millimetres. At four kilograms, handling this recliner, which measures 1,380 x 590 millimetres when folded.
Thanks to its armrests, the second wooden recliner offers more comfort. Nevertheless, when folded it is only slightly larger at 1,380 x 690 millimetres.
With its lying surface of 970 x 400 millimetres and a bar thickness of 30 x 22 millimetres, this deck chair weighs around five kilograms.
Our four kilogram aluminium reclining chair measures 1,320 x 520 millimetres when folded. When it is folded out, however, it offers a very large lying surface of 1,100 x 400 millimetres, which we can print with your advertising messages.
Three high-quality deck chair variants for your designs
We have three high-quality deck chairs available for printing at print24.com. The classic is the foldable deck chair with a simple frame made from beech wood and a light cloth made using polyester. It can be assembled in no time at all and conveys a real summer vibe. The version with the armrest provides more comfort. It also offers a cup holder for your cold drink - perfect for open-air cinema or the outdoor bar.
If you choose the aluminium recliner, you will benefit from a particularly robust model that is lightweight. Due to the use of aluminium, this deck chair is very weather-resistant.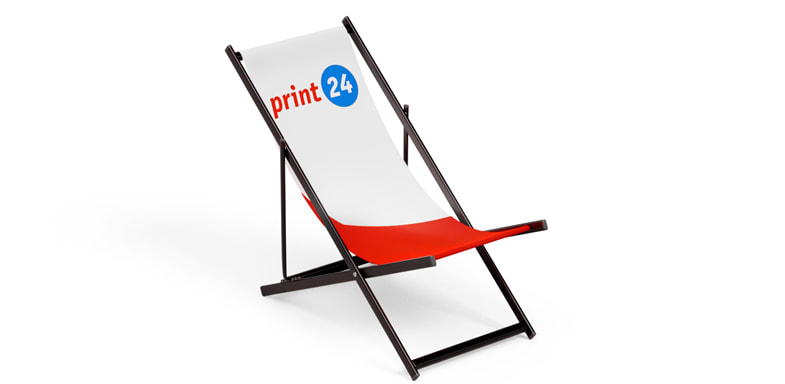 Natural, dark brown, aluminium-look or black
The glazed beech wood of our wooden deck chairs provides a natural look. Lacquered in dark brown, the deck chairs are perfectly suited as an addition to your outdoor area. If you would like to have aluminium deckchairs printed, you can choose between a model with cool silver-coloured aluminium and a model with elegant black lacquered slats.
All the recliners we print for you have a robust, virtually indestructible, but at the same time comfortable fabric cover made of 310 gsm strong, ISO-certified polyester. You can change the fabric cover if necessary.
Many printing possibilities thanks to modern digital printing
We print the lying surfaces of your deck chairs using a modern digital printing process. The polyester material is processed on one side using indirect digital printing or sublimation printing. You are free to choose your own design and we can also print photos of your choice on the deck chairs.
For our wooden recliner without armrests, a printing area of 1,350 x 470 millimetres is available. However, when creating the print file, please remember that the visible area is 990 x 420 millimetres.
In the version with armrests, use the format of 1,250 x 450 millimetres for the print file. Your advertising design can then be visible on an area of 970 x 400 millimetres.
In full-surface digital printing, we print an area of 1,320 x 450 millimetres on the aluminium recliner. The area visible is 1,100 x 400 millimetres - this creates enough space for your corporate design or slogan!