Paper Bags
Print better online!
Personalised paper carrier bags
Stylish paper bags from renowned shops are today used by fans more than just once. Because it would be a shame to throw away fancy bags. In this way, customers end up becoming advertising media. Emulate these cult stores and get print24.com to print paper carrier bags for your business. You will enjoy a wide range of formats and refinement options, not to mention an outstanding print product.
We offer our service for batches from as small as 250 items. But we can just as easily create 10,000 bags at once for you. Configure your carrier bags conveniently on your screen and order quickly and smoothly online!
Plastic carry bags have resulted in a real waste problem in recent decades. So why not give your customers an environmentally friendly version with paper bags? Apart from this ecological aspect, our paper bags are also highly stylish. Featuring rope handles and printed with your personalised design, combine your bag with an awareness of sustainable resource use. This also reflects positively on your brand.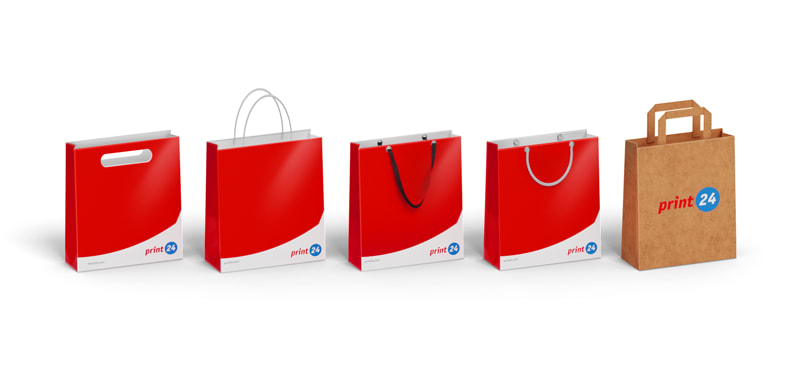 Your choice of different carrying options
Our paper carrier bags are climate-neutral products: FSC-certified, environmentally friendly and compostable. You have the choice between: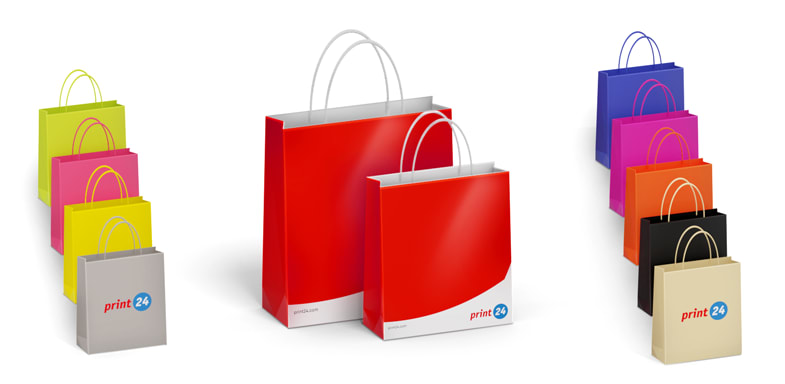 Folded flat paper handles with glued-in handle cover sheet for reinforcement, characteristic block bottom, and a load capacity of up to 2 kg. Handle colour matching the material colour in brown or white.
Paper cords made of twisted paper with glued-in handle cover for reinforcement, on request with edge cover and bottom cardboard. Has a load capacity of up to 3 kg. Handle colours matching the material colour in brown, white, blue, yellow, green, red or black.
Fabric cords with encapsulated ends and four internal knots, 6 mm thick and 50 cm hand length or 80 cm shoulder length. For high wearing comfort and resilience, reliable against tearing and cuts. The small bags with a bottom size of 100 x 100 mm have only one single cord, whose ends are knotted together. Cord colour selection in white, black, red, blue, grey, beige (grass paper only) and cream (apple paper only). Load capacity up to 7 kg for picture paper, up to 2 kg for kraft paper and up to 3 kg for apple and grass paper
Handle holes in 90 x 30 mm with cardboard reinforcement around the punched oblong holes and firmly glued-in bottom cardboard. Load capacity of up to 6 kg
Satin ribbons made of polyester with 25 mm width and 50 cm hand length. Pleasant to wear and velvety soft and reliable against tearing out due to inner knots. Choice of cord colour in white or black.
For large or small shopping trips - your choice of format
Configure paper bags in different sizes before printing. Depending on the model you choose, you can choose between different widths, heights and depths. Our smallest square paper bag in 100 x 50 x 100 mm is often ordered by jewellery boutiques or perfumeries.
In 240 x 100 x 340 mm, your customers have plenty of space for smaller books or stationery items. Our largest bags in 540 x 140 x 500 mm are suitable as shopping bags with which, for example, fashion items can be carried home in style after shopping. But we also offer different sizes in between, suitable for every purpose.
The format corresponds to the finished bag, dimensions always in width x depth x height. Please note the visible area and use the PDF template provided by us to create your print data. You will find more detailed information in the datasheet. If you have any questions about individual paper sizes, please do not hesitate to contact us on the phone during our service hours!
High-quality paper for your carrier bags
For the printing of the carrier bags we use, among other things, the proven coated art paper in a grammage of 140 to 240 gsm in the glossy or matt version. The particularly strong kraft paper has a high tear/tensile strength due to the long cellulose fibres it contains. You can choose between 70 - 200 gsm (brown), 100 - 120 gsm (brown ribbed) and 70 - 170 gsm (white).
Depending on the degree of lignin contained, the colour of the paper ranges from white to brown. Due to its open-pored surface, printing inks are more strongly absorbed. As a result, the print result appears less radiant than on coated paper. In contrast to most other papers, it is water-repellent to a certain degree.
As "green" natural papers we offer the 185 gsm apple paper and the 200 gsm grass paper. In the case of apple paper, up to 15% dried apple pomace is added to the wood cellulose. This gives the material a creamy colour and a velvety feel. Grass paper is an environmentally friendly alternative in its production, in which the proportion of grass fibres can be up to 40%, depending on the intended use.
Depending on further processing, contact of the material with dry, low-fat food is unproblematic, it can be recycled and composted. Allergy sufferers need not worry, grass paper contains no allergens. The natural-coloured material has a structured, haptically perceptible surface. Since apple and grass paper is an organic material, the natural colouring can vary from batch to batch. Furthermore, the inherent colour of the paper influences the colours printed on it. A fruity scent or a light grass scent is possible, but this will fade over time.