Notebooks
Better print online!
Personalised notebooks
What would famous writers like Hemingway or Balzac have done without their notebooks? How many novels are the products of fleeting notes jotted down for decades by authors all over the world? And it's not just in art; notebooks also play a key role in everyday business. Take take down notes, log meetings, notate appointments and write ideas down. Here at print24.com, you can have your notebooks printed in various formats professionally and affordably in top quality using your personal motifs. As one of Europe's largest online print shops, we are using the latest printing technology to create volumes ranging from 1 to 1,000 items.
It's hard to think of a print product more versatile than the notebook. Their blank, lined or gridded sheets are used by students, by doctors for medical records, by artists as sketchbooks, by teachers as manuscript books, by psychologists as patient logs, and by notaries as diaries or address books. They're popular among CEOs, trainees and professors alike, perhaps because of their easy availability, even in a digital age. Because all you have to do to jot down creative ideas, draw sketches or simply record an appointment is grab a pen or pencil – no electricity or Internet connection required.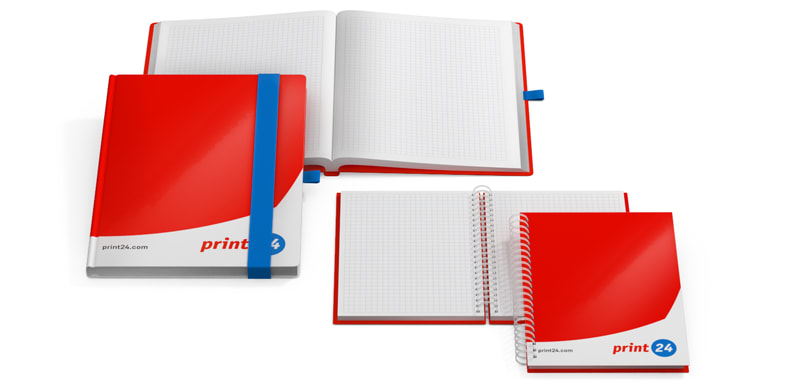 Notebooks in various sizes and formats
print24.com allows you to print notebooks, depending on the version, in three different formats with a maximum of 192 pages. Depending on your requirements, you can choose between DIN A5 (148 x 210 mm), DIN A4 (210 x 297 mm) or a notebook with a format of 225 x 297 mm.
The pages of the third version, once removed at the micro-perforation line, have a format of DIN A4 and are therefore especially suited for archiving.
Various formats and extras for your individual notebooks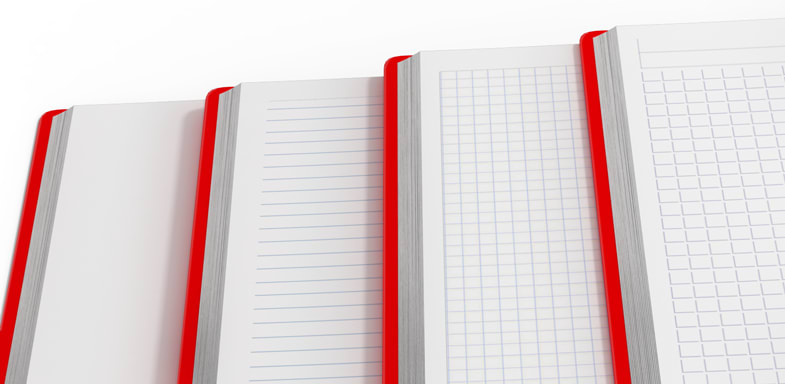 The Notebooks are available in versions Basic, Classic, Premium, Exclusive and Wire-O. With the Basic-version you have the choice between blank, lined or grid paper, while the rest of the versions come with grey grid-lines. Each page has a header for dates, project names, or meeting participant names.
The versions Basic, Classic, Premium and Exclusive are bound with sewn binding and include a ribbon page marker. The high-quality hardcover with unpadded casing consists in all versions of four pages and is laminated with a glossy finish. In the laminating process, an ultra-fine film is topically applied to the surface of the cover, making the outside of your notebooks more robust and better protected.
Notebooks in the version Exclusive include extras like an elastic closure and pen loop. The elastics are available in 7 different colours. Additionally, you have the choice between matt or glossy lamination of the cover.
The Wire-O version comes with a simple title page and carton back or with a high-quality hardcover that can be laminated. The wire is always white.
Optimum protection through lamination
To give your notebooks the necessary protection, as standard the cover is glossy laminated. With the Exclusive version, you can choose between two cellophane wrapping properties. The matt finish is quite simplistic.
The most frequently chosen variant is the glossy one. Cellophane wrapping keeps your notebooks in perfect condition for longer, even after frequent use.
High-quality printing inks
We use premium inks to print your notebooks, and these can be combined with the CMYK printing process, allowing you to print top-quality graphics or photos on the book's cover.
Simply upload the print file while configuring your notebook.
Extremely practical: Perforated pages and pouches
All notebook pages with grey grid-lines feature a fine micro-perforation, allowing individual sheets to be removed lengthways. This may be useful if the content is no longer relevant, or notes need to be copied. As we use 90 gsm bright white offset paper for the note pages, they can also be further processed in printers once they have been removed from the book.
A practical pouch can be added on the second last page of the Premium and Exclusive versions, providing even further functionality. Depending on the format chosen, it can be DIN A5 or DIN A4 in size and can be used to carry items like business cards, appointment cards, DVDs or a ruler.