Outdoor posters
Print better online!
Have outdoor posters printed
Are you looking for a reliable and proven advertising medium for outdoor promotion? Do you want your posters to survive wind and rain? Then outdoor posters are the perfect solution. They are suitable for efficient election advertising as well as for advertising a location or event. You can also use the posters for temporary signage at outdoor events.
They can also be used for sports events such as marathons or cycling courses. We print up to 10,000 outdoor posters per order for you. Your motifs and lettering are applied to robust and recyclable all-weather cardboard or polypropylene Akylite. This ensures that your message remains legible and visible outdoors for at least six weeks without damage.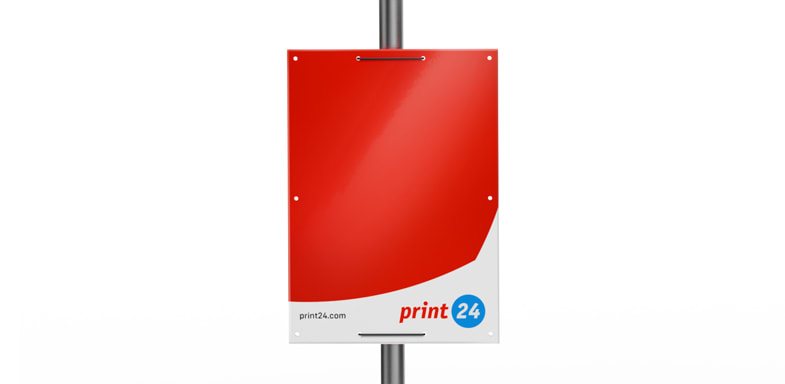 From handy DIN A3 posters to huge DIN A0 double posters
We print your motifs for you in nine different formats. The DIN A3 or DIN A2 outdoor posters are ideal for event advertising in limited spaces. If you want your messages to be visible quickly and from a greater distance, choose a larger format, e.g. DIN A0 (841 x 1,189 millimetres). Or you can opt for the classic poster format DIN B1. Here you have 700 x 1,000 millimetres of space for your content.
If you want your texts and motifs to be visible from both sides on a pole or lamppost, our double formats are ideal. Here you can choose from all-weather posters in double DIN A1 (1,188 x 841 millimetres), double DIN B1 (1,400 x 1,000 millimetres) and the giant format double DIN A 0 (1,682 x 1,189 millimetres).
By the way, the double formats are particularly practical. They are printed in one piece. Then fold the poster in half and place it around a post or pole. To attach it, simply pull cable ties through the holes. This saves you valuable time when putting up posters and at the same time ensures that your advertising messages are visible from both sides.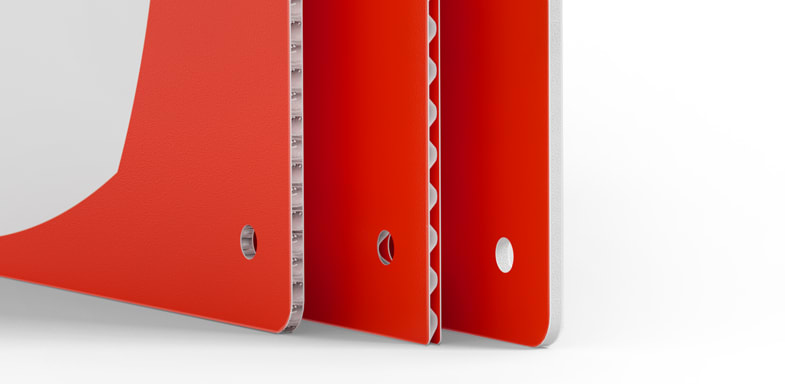 Sturdy material for maximum durability
We print your outdoor posters on all-weather cardboard or 2.5 millimetre thick twin-wall sheets. The all-weather board has a weight of 750 gsm and has a PE coating that protects the surface from moisture. The recyclable material can be used in outdoor advertising for at least six weeks. Enough time to last for an election campaign.
Twin-wall sheets made of tear-resistant polypropylene are even more resistant. The sheets are also 100% recyclable and feature a reinforcing Akylite honeycomb structure or a corrugated structure, depending on your choice. Their service life is three to four months.
Easy and fast installation
Depending on how you want the posters to be attached, you can choose a 4x corner perforation or a 10x punched hole, each with either 5 mm or 7 mm diameter. As accessories, we offer matching cable ties in packages of 100, 500 and 1,000 pieces. With a width of 4.8 mm and a length of 370 mm, they are suitable for most lampposts or thinner trees. With the colour "nature" they do not distract from the motif.
Honeycomb: 4x corner holes 5mm, 10x punched holes 5mm, all-round
Corrugated: 10x punched holes 7mm, all-round
All-weather board: 10x punched holes 7mm, all-round
How we print your outdoor posters
At print24.com, we rely on the proven 4/0 CMYK UV direct printing process. In this process, the ink is cured by ultraviolet light and forms a solid layer of colour. The dried ink then has a slightly satin finish and gives it a laminated feel.
This gives the ink greater strength and better protection against yellowing. UV direct printing does not require any thinners or solvents and is therefore a more environmentally friendly printing technique.