Tape measures
Better print online!
Have tape measures printed
Measuring a length of fabric or a piece of furniture quickly is no problem when you have a sewing or pocket tape measure. At print24.com, you can have tape measures printed with your own customised advertising messages or simply in your corporate design. You benefit from excellent print quality, easy order configuration and low prices. Start your tape measure print job right here online!
Anyone who enjoys sewing at home would be happy to receive a practical sewing tape measure. However, tape measures are also incredibly useful for interior decorators, tilers and DIYers. Rolled up, they fit into a trouser pocket but are still ready to use right away. That is why tape measures are a great advertising medium if you want to appeal to the broadest possible target group. Alternatively, you could equip your team with customised tape measures and strengthen your corporate identity in a lasting way.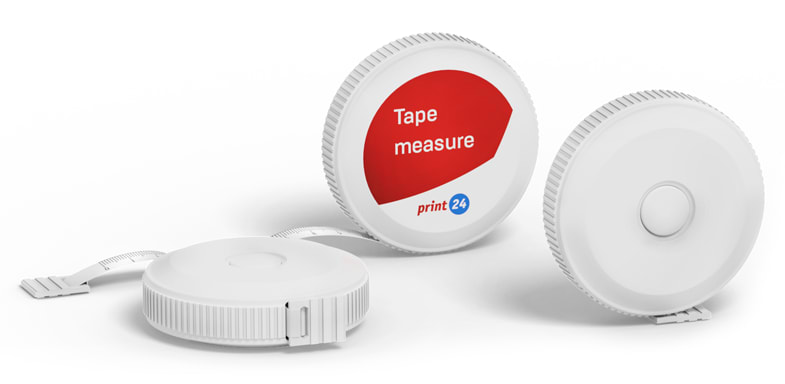 Different print areas for even more options
We can print on the front and back of the classic sewing measuring tape. On the front, there is a print area of 20 x 12 mm, with an area of 35 mm in diameter on the back. The front and back can be printed separately. The measuring tape can be printed on with one spot colour on one side. The colours are applied using the tried-and-tested pad or screen printing.
When creating the print file, observe the specifications in our data sheet. In this way you avoid unnecessary complications during printing and we can complete all tasks for you smoothly and promptly.
One customisable designs: sewing tape measure
For your print job, you can choose between one design at print24.com. Firstly, you could select the classic 1.5-m sewing tape measure in white. It is a roll tape measure with automatic recoil, a centimetre scale on the front and inches on the back.
Thus, this promotional gift can be used without problems around the world. It has a diameter of 53 mm and is 15-mm wide.
Strong colours in full tone printing
For the application of the ink, the proven tampon or screen printing is used. This gives you a choice of many strong and vibrant colours. It is important that the colour selection for the print job is clearly defined and that the tonal value is 100 percent.
Do you have any further questions about the creation of the print file or the selection of suitable designs? Then please feel free to get in touch. Our service team can be reached by phone or via online messaging during business hours.