Year planners
Better print online!
Wall year planners printing
What appointments are coming up next week? Where are we with our holiday planning? When is the next meeting with your business partner? When are Grandma and Grandad's birthdays? With a quick glance at your wall year planner, all these questions can be answered in an instant. This kind of overview calendar provides an equally valuable service at home and at work, in the office and at the shop.
At print24.com, you can customise the planner with your own designs. It has plenty of room for your logo, graphics, images and the contact details of your company. Make use of these options and create wall year planners to your own design for your business premises or as a practical promotional gift for customers and business partners.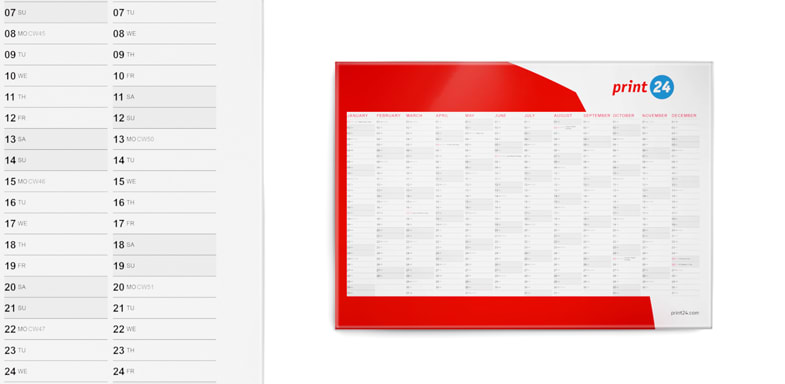 Have wall year planners printed in different sizes
Four large standard formats are available for printing: A3, A2, A1 and A0. At 841 x 1,189 mm, the final format listed is very large and offers the best overview of the year's appointments. At print24.com, you can also specify a custom format and, for example, have square wall year planners made, starting from a size of 297 x 297 mm. The maximum size for custom formats is 841 x 1,189 mm.
Depending on the selection, the calendars can be printed in portrait or landscape format. When creating the print file, please note that you have to add an additional 2 mm to every side that is going to be trimmed and that text and images should be positioned at least 1.5 mm away from the edge. If you have any questions regarding the creation of the print file or any of the formats or finishes, we would be happy to help you on a one-to-one basis. Just give us a call.
High-quality coated printing paper for your year planners
All the wall year planners from print24.com are printed on high-quality, wood-free, white, double-coated printing paper. Three paper thicknesses are available: 135 gsm, 170 gsm and 250 gsm. For printing, we use the CMYK four-colour process. This offers you the greatest possible flexibility in your choice of design. Photos, logos or individual graphic elements can be easily transferred to the paper.
If you would like a preview before the final print, you can order a screenproof for a small surcharge. We then create a digital image of your wall calendar and send the file to your customer account. You can conveniently review the result on-screen and, if it is to your liking, continue with the print job. If the preliminary result does not appeal to you, the order can be modified or cancelled.